Saturday night was Faculty Appreciation night at the Saint Francis University basketball games. This is one of the few nights during the year that I get to visit the university with my wife, a member of the general faculty, for a free meal and good time. The evening also honored, Maureen Malloy for her dedication to the student athletes.

The Lady Red Flash stand for the National Anthem prior to the start of the Saint Francis vs. Sacred Heart basketball game on Saturday night, 20Jan07.

In her fourth year as head coach of Saint Francis Women's basketball, Coach Jill Poe leads the Red Flash against Sacred Heart University.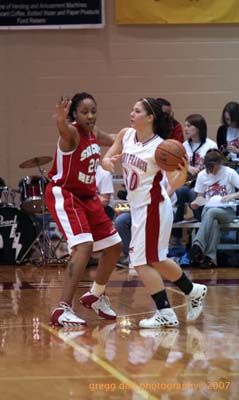 #20 Lindsay Stuckey passes the ball around her counterpart, Sacred Heart's #20 Jasmine Walker.

With a hand in her face, #4 Shawna Scott shoots the ball over #24 Sacred Heart Khalia Cain.

#24 Khalia Cain goes for two against the Saint Francis defense.

#34 Emily Bollinger shoots one and one from the foul line.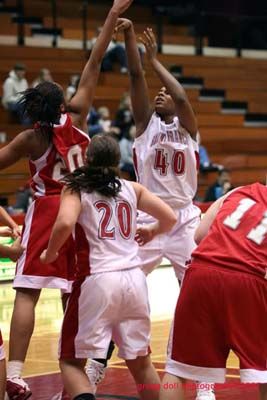 Whitney Robinson #40 goes for two against Sacred Heart's forward Jasmine Walker.




Student sport medicine trainers for the Saint Francis Lady Flash basketball team.

Saint Francis cheerleaders entertain between the ladies and the men's game.



One half of the Saint Francis Red Flash pep band.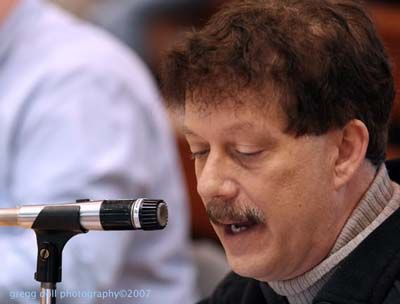 Dave Shannon. Dave's been the in-house announcer for Red Flash sporting events since 1978.

Local radio personality Joe Vesnesky is in his twenty-eighth year of doing radio broadcasts of Saint Francis sports on WWGE am 1400.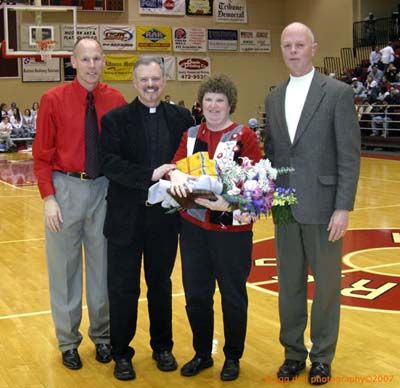 Honored at Saturday night's basketball game was Maureen "Mo" Malloy. "Mo" as she is known, is an assistant manager for the University's food services. Using a 35 mm SLR camera, Mo has taken over 62,000 photos of student athletes over thirty years. Also shown, left to right, are Saint Francis Athletic Director Robert Krimmel, President Gabriel Zeis, Maureen and V.P. for Student and Community Development Dennis Riegelnegg.


Coach Bobby Jones has been with Saint Francis University for eight years. He is shown here with two of his assistant coaches.

#11, Marcus Ford goes for a deflection while #5, Chris Berry, blocks the basket from Sacred Heart's #50, Drew Shubik. Drew is somewhat of a local boy having played for North Star High School in Stoystown, PA.

Flying like an enraged bird on the wing, Jarid Frye, of Queens, New York, flies through the air toward the basket.

Like leaping stallions, Cale Nelson of Saint Francis, goes one on one against Chauncey Hardy of Sacred Heart.

I'm just going to call this one "Pickle in the Middle".


Chris Berry releases the ball before #44, Bryce Brooks can get in his way.

Forward Jelani Lawrence, a 6 foot 6 senior, looks to pass off the ball.

Washington DC's Devin Sweetney bullies his way for a basket.