Welcome to Summer 2008, in Cambria County, Pennsylvania. A new crop of baby birds is alive and well, summer festivals are gearing up, I'm looking forward to Thunder in the Valley (which will be next week's blog) and the weather is beautiful.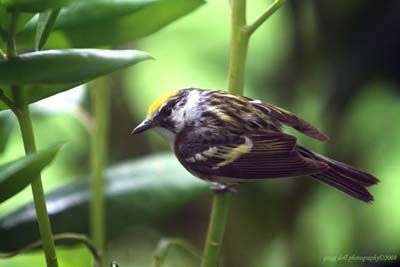 Our first ever Chestnut-sided Warbler -- Dendroica pensylvanica -- arrived this past week. He spent his first 4-5 days attacking his reflection in the bedroom mirror.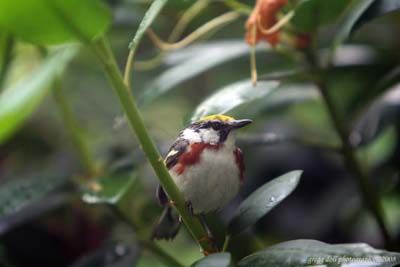 The warbler seems to like our rhododendron.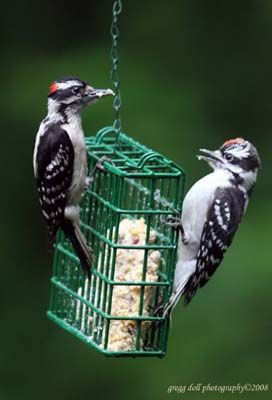 Now that the weather has started to settle down, the birds have gotten down to breeding and raising their young.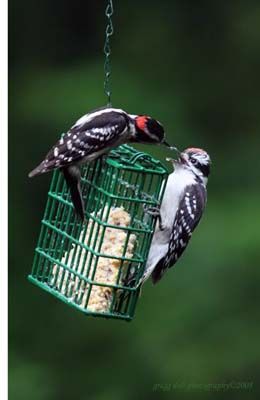 Father and son Downy Woodpeckers.
The male only spent a day or so showing his offspring how to use the suet feeder.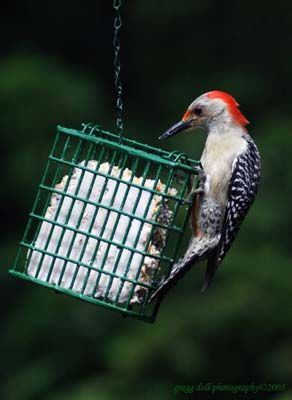 A female Red-bellied Woodpecker at the suet feeder. Although we've had the males here all year around, this is the first time a female has come into the yard.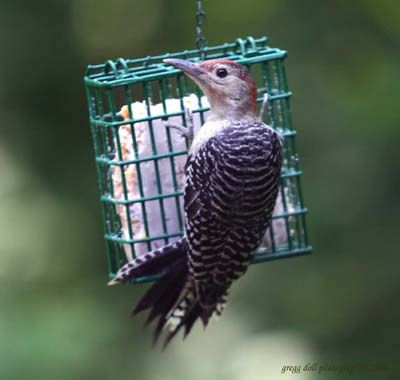 New male juvenile Red-bellied Woodpecker.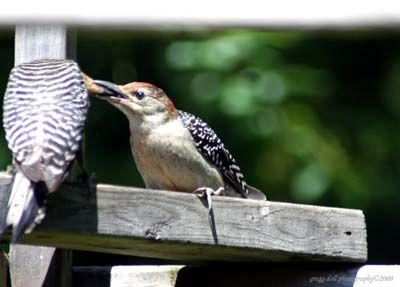 For some reason, the Red-bellied Woodpecker tends to feed the young for a lot longer than some of the other birds we have been shooting. I've started to call this guy "Baby Huey" after the cartoon character.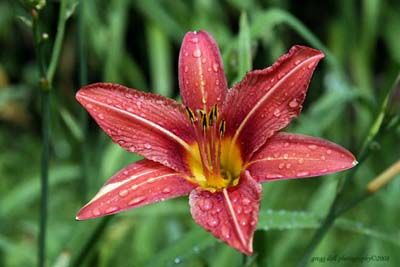 Our first daylily of the year.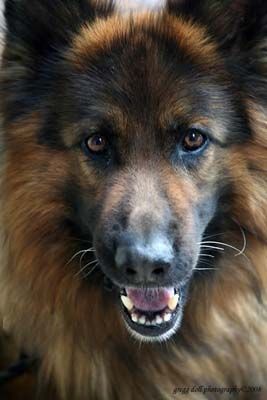 Meet Hoss, disguised as a long haired German Shepherd. Hoss works for the Cambria County Sheriff's Department as a drug sniffer and attack dog.

Last week I got this Rose-breasted Grosbeak after it flew into the window. Ten minutes later it flew off, no worse for the wear.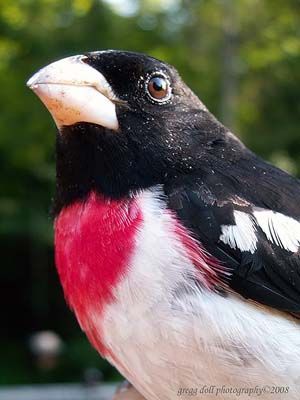 Portrait.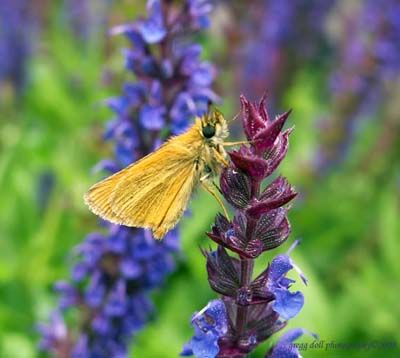 Skipper


Michael Long using a chain saw to carve a bear.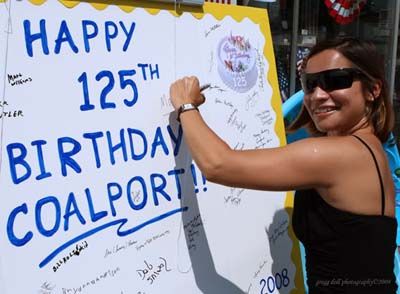 While covering the Coalport, Pennsylvania 125th birthday celebration I met Marsha from Sweden while she was signing this large birthday card.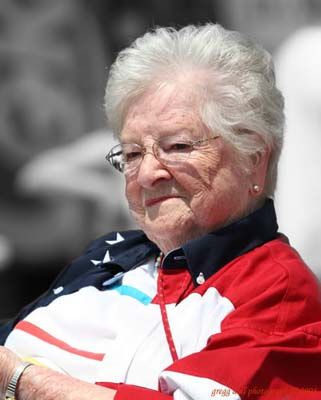 Mary Seymore at 81 is the oldest native citizen living in Coalport.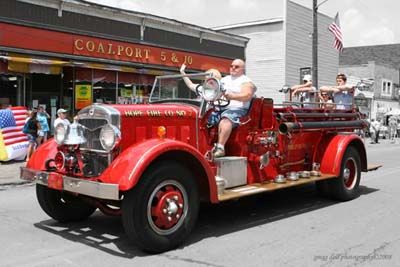 Coming out of the past, and into the future.
Hope Fire Company of Philipsburg brought their 1937 Buffalo to town for the birthday parade.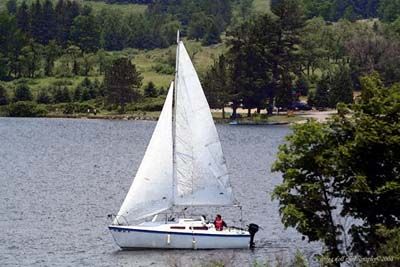 On the way home from Coalport the wife and I stopped at Glendale Lake to watch the sailboats for a few minutes.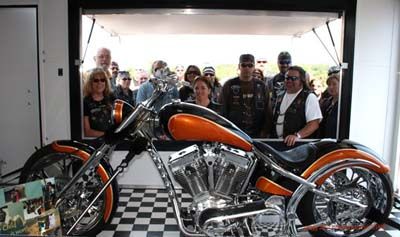 A Jesse James creation, this motorcycle with all its attributes including the autograph of Jesse and his wife Sara Bullock plus those of other swells of TV and movies is said to be worth 250,000 large.
The second annual Antique Fire Truck Muster and Chicken BBQ was held by Spangler Fire Company Station 58 over the weekend also.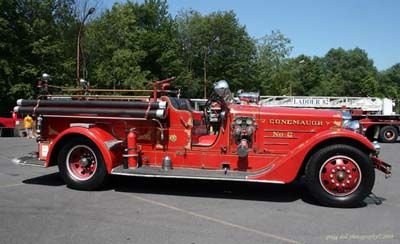 Belonging to the Company Vice President is this 1936 American LaFrance pumper.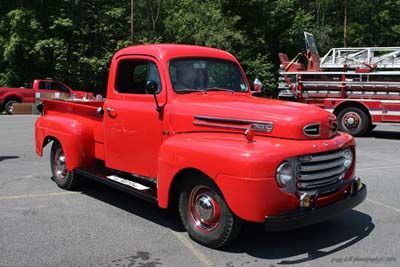 1950 Ford F-150.



My last four shots for this week were shot in Cresson, PA. The first 3 were shot from the public observation deck next to the Norfolk Southern mainline.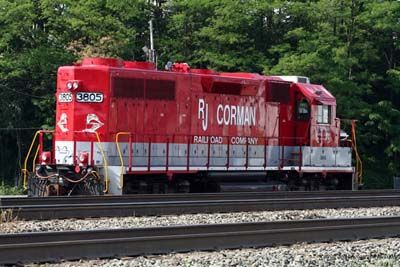 Corman 3805. GP-38
I'm not sure what make this engine is but I know someone will email me with the info.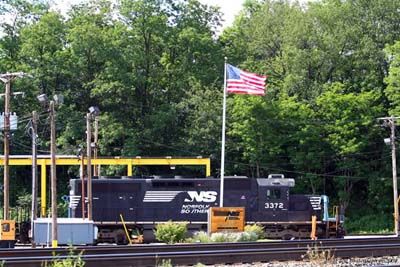 Stopping for service at the Cresson Plaza is this SD40-2.

Dash 940-CW, SD70M, SD60
Heading West on the Mainline at Cresson, Pennsylvania.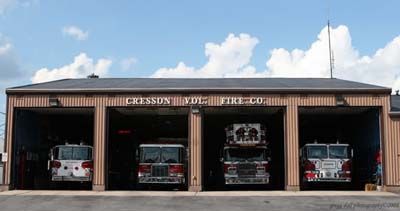 Cresson Volunteer Fire Company, Station 70.