From Patton to Punxsutawney, patiently photographing places, I try to paint a picture of Pennsylvania. Wow, I can't believe I said that.

The recent warm weather and a thirty year old air conditioning unit that bit the dust forced the Patton Borough Office to install this new air conditioning unit, much to the delight of the borough staff and some over heated local residents.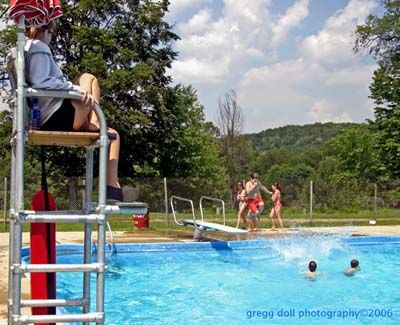 There aren't very many swimming pools in the area with quite the view seen here at the Patton Swimming Pool, the summer centerpiece of the Patton Community Park area. The Park has, in addition to the swimming pool, picnic tables, tennis courts, a baseball field and a train that runs on weekends.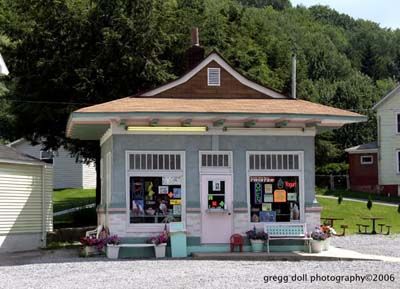 Formerly a gas station, the Twist N Shout is a good place to meet on a hot summer afternoon.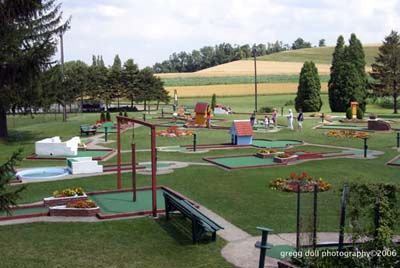 Just on the outskirts of town is the Chest Ridge Golf Center, a small driving range and miniature golf course, the only one like it for miles. You can even find it at golflink.com

While not very big, or very modern, kid's still have a good time bringing Mom and Dad out to play golf.
Driving around Patton one day, I spied a barn, or should I say the red roof of the barn, from about a mile or so away. Well this week, while taking the previous pictures of Patton, I decided to find it and get some pictures. This place sits on top of the ridge, all by itself, about a mile from town and I'll bet not more than a dozen people even know it exists. Driving up the hill, on what can only be called a cow path, the following four pictures are what I found.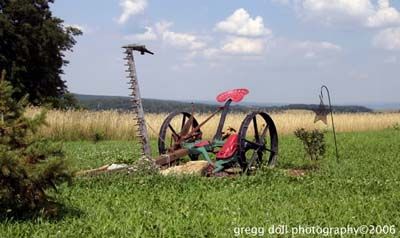 This antique hay/grass cutter is the first thing that greets you at the top of the hill.

As the barn sits on this hill, the view is to die for.
Updated 24Mar08 -- Suzanne Ferguson, an artist in California, purchased this photograph and used it as the inspiration for a painting which you can see at http://www.suzannefergusonart.com/art_windows/landscapes/l_countrybarn.shtml

As a photographer, I live for this kind of place!

Everywhere you looked, there was just another picture begging to be taken.


Heading into Punxsutawney, PA, on Route 36 North, this 5 foot tall Punxsutawney Phil is there to greet you, just outside the local post office facility. This is just one of a over three dozen or so Phil figures on display throughout the downtown area.

Turning right onto Route 119 North, you head out of Punxsutawney as fast as you entered it. About a mile or so out of town, you'll see a sign for the Greater Punxsutawney International Airport and Amateur Radio Club Complex. The plane shown here is a 1977 Cessna 337 SkyMaster. What makes it of interest to me is that it is the civilian version of the 337 that was used by the forward observers and flown in Vietnam in the mid 1960s It's one of my three favorite planes from Vietnam.

I found this red barn after leaving the Punxsutawney Airport. I ran across it on some back road between Eleanor and Desire as I was heading toward Panic when I was really looking for Anita. It was originally built in 1880 and the current owner bought it in 1980.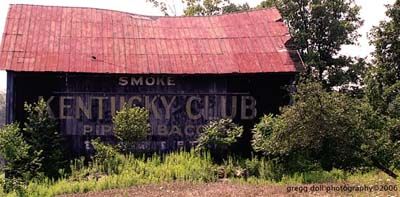 An abandoned barn on Route 219 near Bells Landing, the ad is for Kentucky Club Pipe Tobacco.

Rock Frog