What a trip the last week's been and I mean that literally not chemically. We went from the freezing lake at Saint Francis University to the chilly mountains of South Carolina with a snow storm somewhere in between.
When I got up on Tuesday morning I had no real plans for the day or even the week except for putting the blog together. By Sunday my daughter got a job, I took on a shoot and we made a trip to Pickens, South Carolina and back. It felt good to be back on the road again even if it was only an overnight hit and run. This was also our first road trip without a map. Finally got a GPS and the damn thing worked great!



Wednesday, 24 February 2010
Every year at around this time the TKE fraternity at Saint Francis University holds it annual fund raiser for the Alzheimer's Association. But due to the weather the last several weeks the Polar Bear Swim was rescheduled until this past Wednesday. Before the road trip to South Carolina came up I was planning on using the fundraiser as this week's blog. Now I am only going to use a few of the shots of the Polar Bear Swim and devote most of this week's blog to our road trip south.

The Greeks get their letters set up on the ice.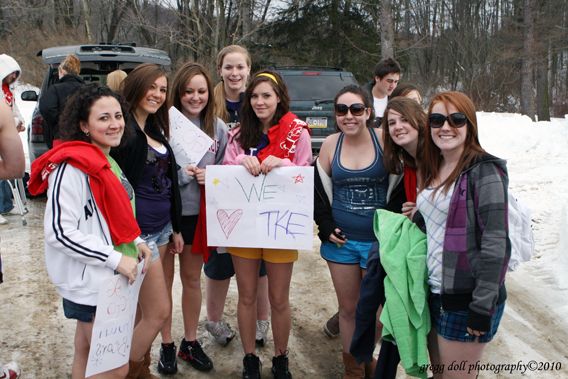 Non-Swimmers.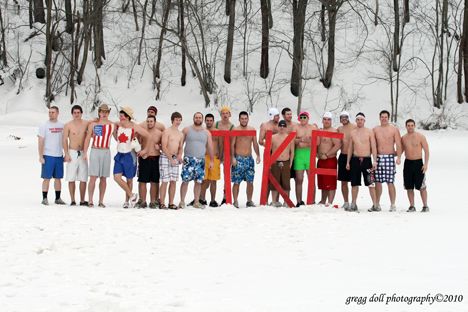 20 of the TKE brothers pose for one last picture while still dry.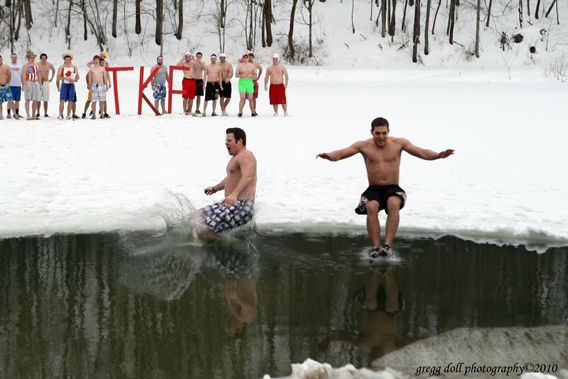 First in, first out!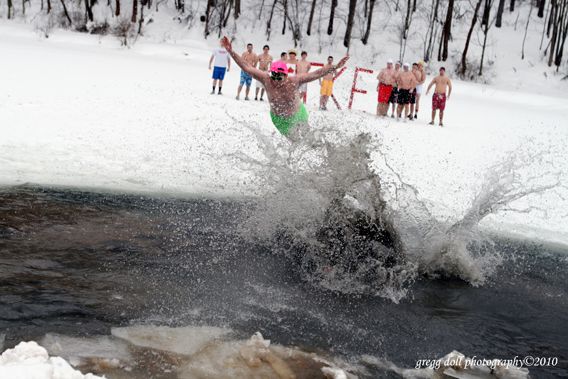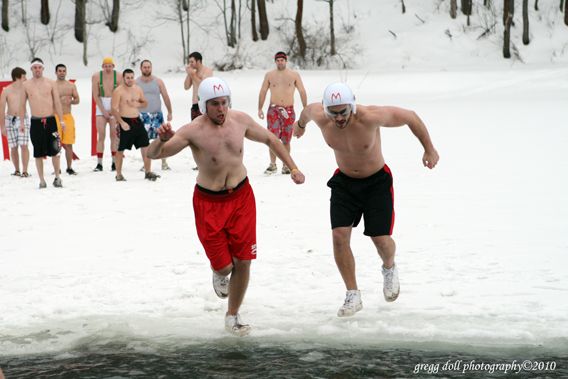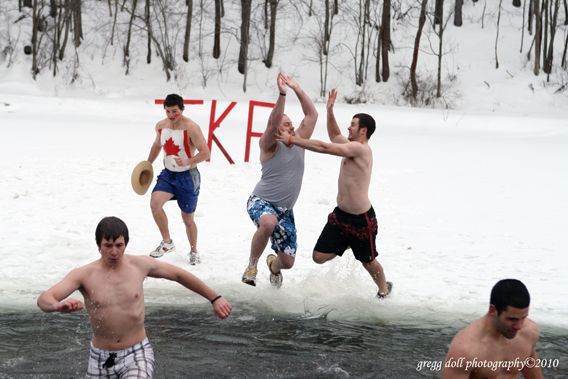 The Canadian, a senior, went twice. Several of the fraternity brothers decided that since this was their last year they would take the opportunity to do the plunge for one last time.

I couldn't setup this shot even if I wanted to. This is what I love about street photography. I just shot what I see. This is just one of 10 shoot over 20 seconds.

Thursday, 25 February 2010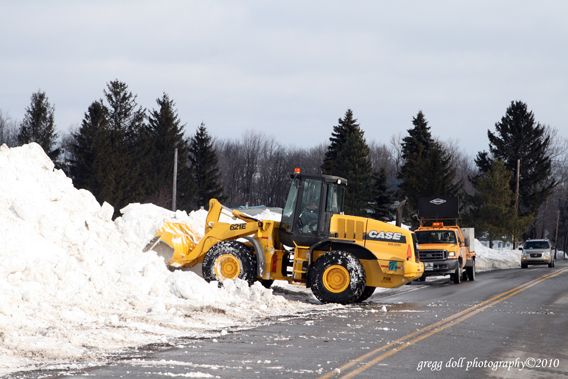 This is actually the first picture shot during the course of our daughter's move to South Carolina. On the way home from Wally World for a few household needs we got held up along Sunset Road outside of Carrolltown, PA while the state highway crew tried to widen the road before we got the next snow storm that was to come. We got the storm on Friday and the road was blown shut again.



Friday, 26 February 2010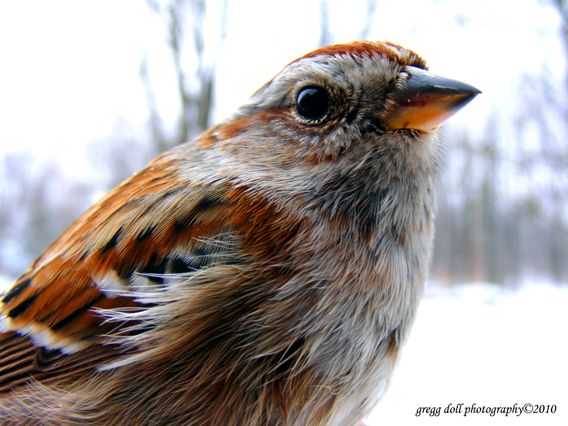 American Tree Sparrow -- Another victim of the window.

Saturday, 27 February 2010


Up at 5 a.m., loaded the van and on the road by 6 a.m. -- Destination Pickens, SC. The weather was bad and the roads worse. I don't think we went over 40 mph if that for the first 2-3 hours and then you were lucky if you could do the speed limit once in a while.

The next five pictures were shot by my wife from the van as we passed an accident between two tractor trailers playing bumper trucks. We were warned by a digital sign about 13 miles before the accident. According to the local TV station website, this section of Interstate 77 near Bluefield, WV was closed for several hours. Luckily we were only slowed down and never really had to stop.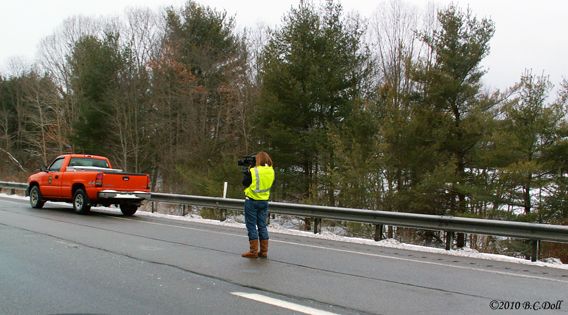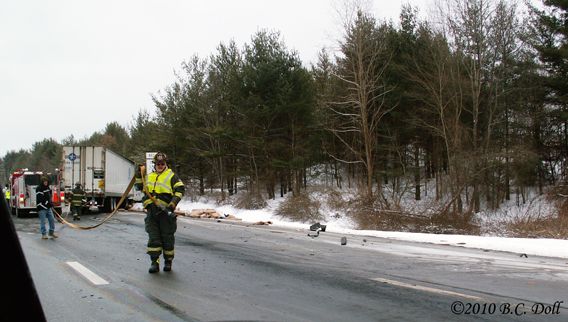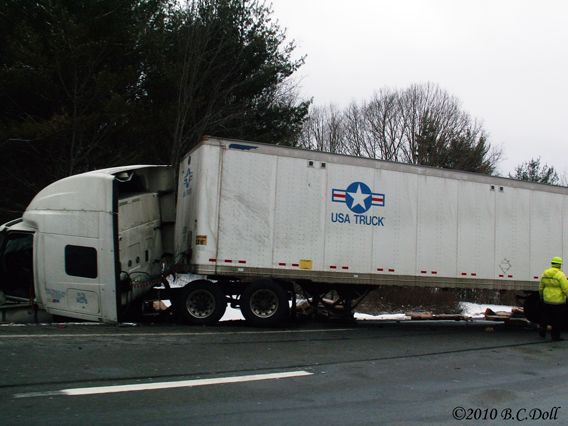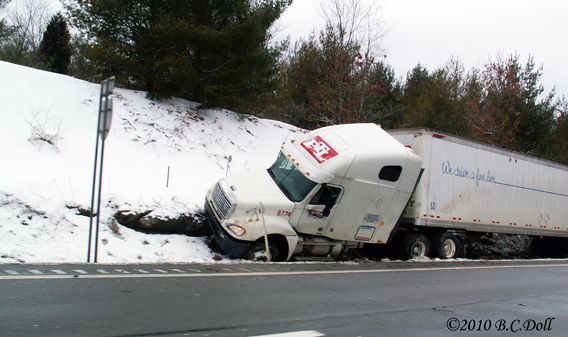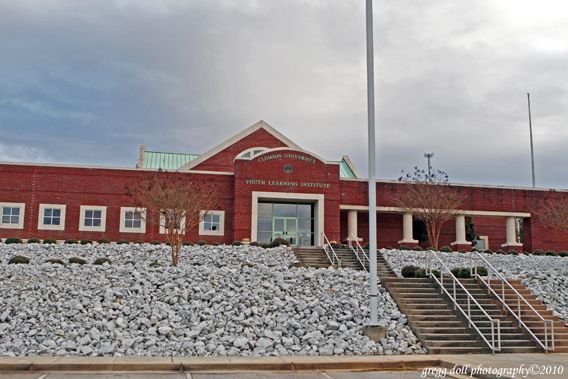 Finally at our destination, the Youth Learning Institute of Clemson University, Pickens, SC.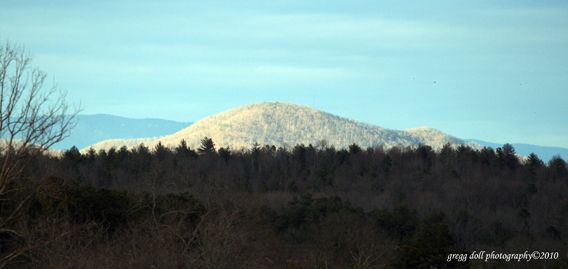 Looking north from the Youth Learning Center.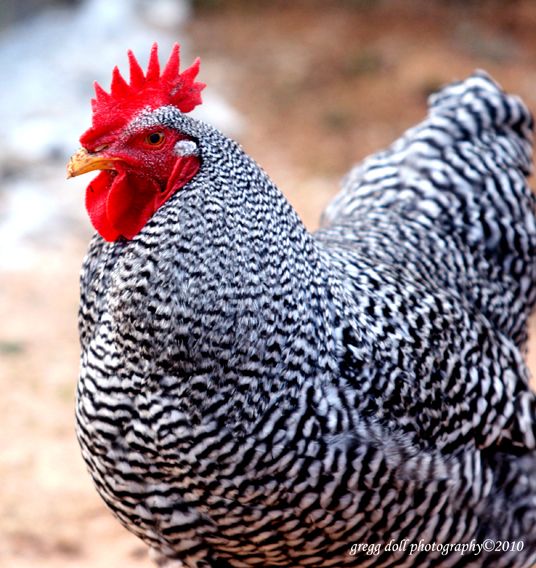 King Louie, Staff Pet.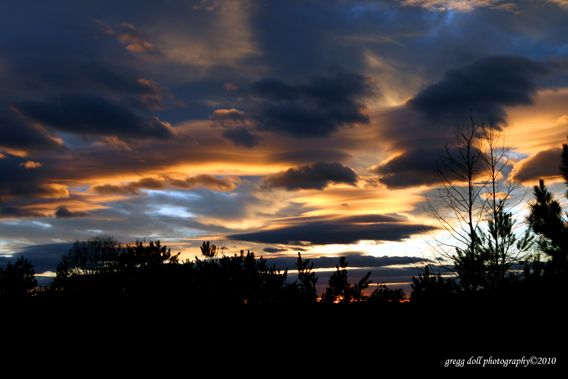 Sunset, Pickens, South Carolina.



Sunday Morning, 28 February 2010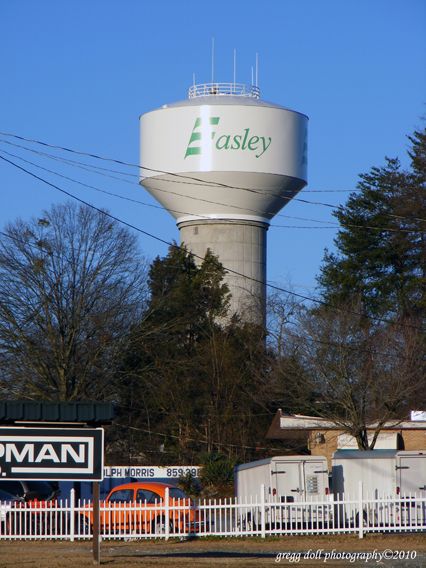 It's about 7:30 a.m. Sunday morning and this strip area of Easley, South Carolina is deader than a door nail.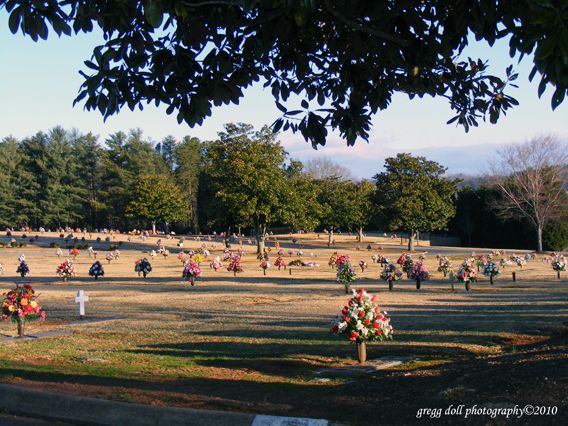 On Route 8 between Easley and Pickens we passed this memorial park. The place was huge, it covered both sides of the highway.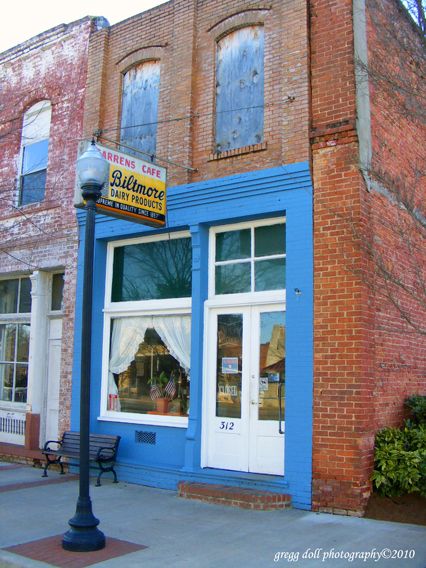 Garrens Cafe
We stopped in Pickens for a few pictures of the downtown area on our way home via Table Rock State Park. My daughter might not be close to home but I can see where she's at now. Some of these pictures will make their way onto my screen saver file.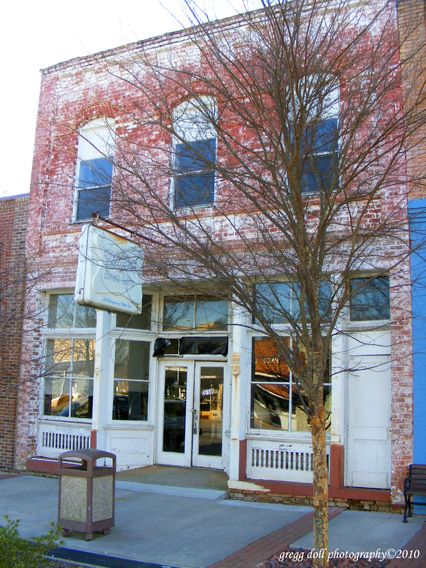 Bar room.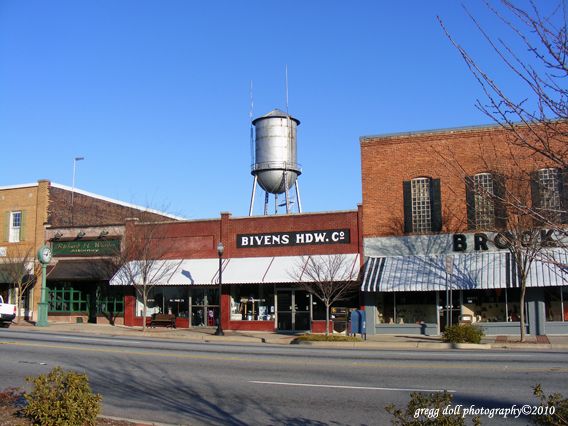 Pickens has a really nice, clean looking downtown area. It still has that downtown look that most of the people my age grew up in and around and it's rare that I get to shoot in a downtown before anyone else is out of bed.

Pumpkintown, SC Produce Stand, Route 8 and Route 288.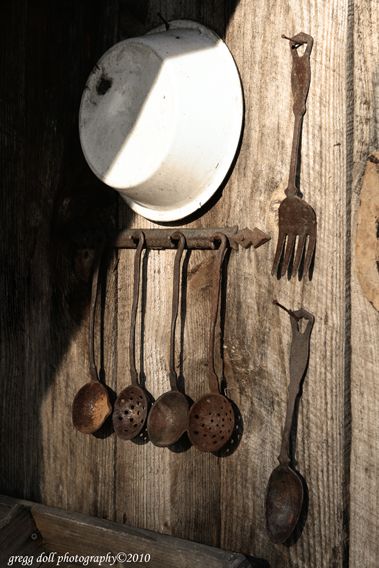 Wall hangings at the produce stand.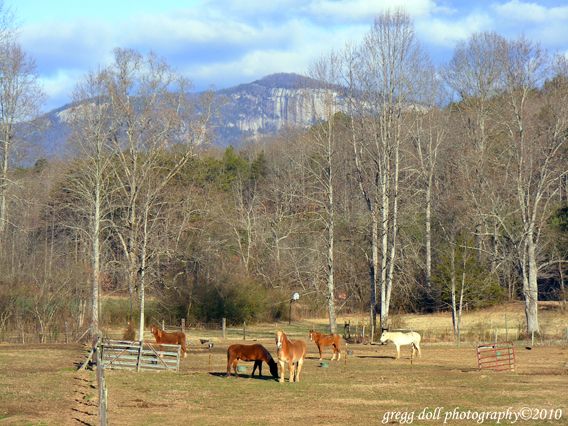 One of our first good views of Table Rock Mountain.

Closed for the season, the Pumpkintown Mountain Opry on Route 11 at the Route 8 intersection gets a breather. Built in 1986 the Opry has a restaurant, ice cream stand and features a dinner theater on the weekends.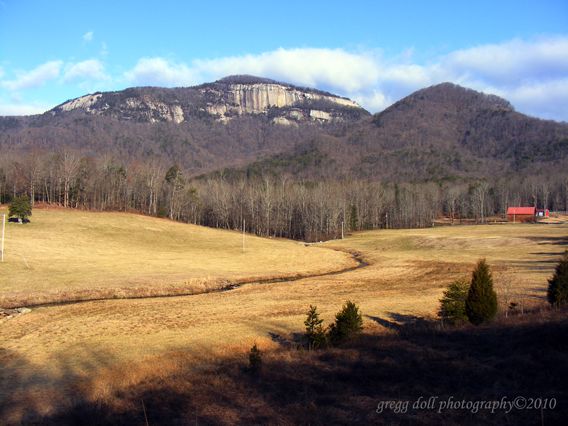 Table Rock Mountain shot along Route 11, Cherokee Foothills Scenic Highway, just before the Park Headquarters.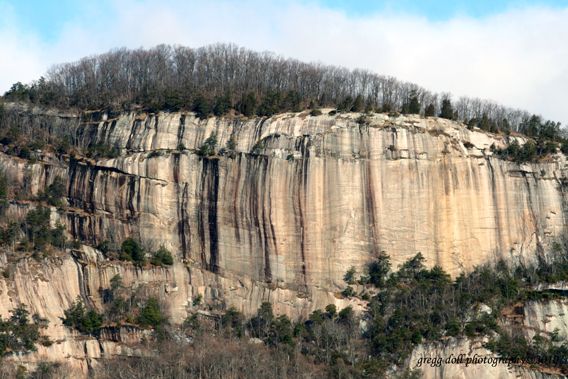 Close-up of Table Rock.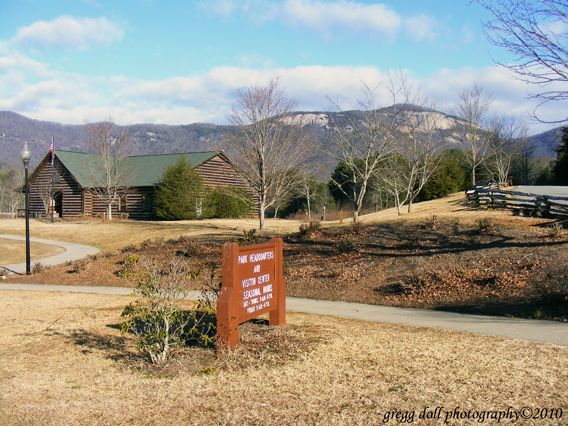 Table Rock State Park Headquarters, 158 E. Ellison Lane, Pickens, SC.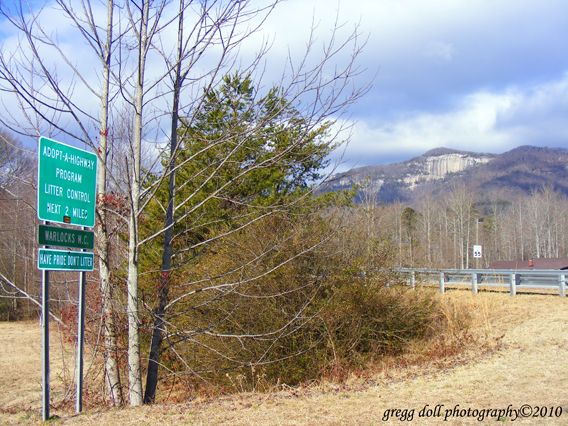 Last shot of Table Rock Mountain.

The next two pictures show Wildcat Branch Falls along Route 11 near Cleveland, SC.

Even though the photographer shown in the picture has a digital camera he is still shooting old school. He has a tripod, cable release and a 35mm film camera. On top of that I watched as he entered his settings into a log book.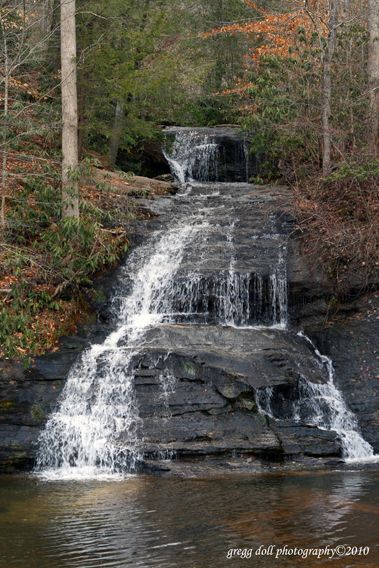 Wildcat Branch Falls in the Wildcat Wayside State Park, South Carolina.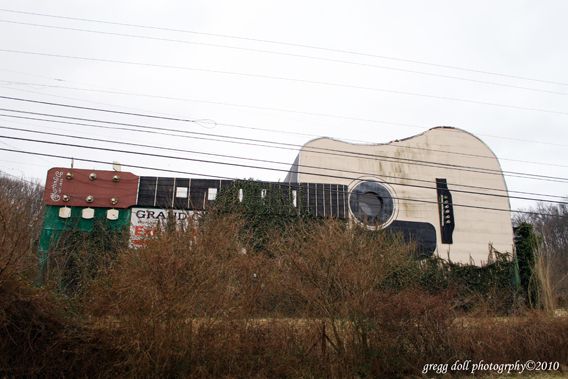 Built in 1983, The Grand Guitar is 70 feet long, three stories tall, and the guitar neck inlay and sound hole are windows. At one time, rare instruments and some of the old costumes owned by Porter Wagner were on display and it was also the home to WOPI radio. It's the only one like it in the world. It's just off extension 74A of Route 81. If you are south bound on Route 81, you can shot it from the rest area just across the highway. Unfortunately, it's no longer open to the public but you can learn more at http://www.talentondisplay.com/grandguitar.html. After stopping to get this shot along Route 81 north near Bristol, TN it was time to strap in and set the GPS for home and a few cold beers before bed.