This past Saturday I had the opportunity to cover the 5th Annual Fisher's ATV World Reunion held at
Rock Run Recreation Area
near Patton, PA. I spent about four hours watching ATVers run around an obstacle course and having a lot of fun.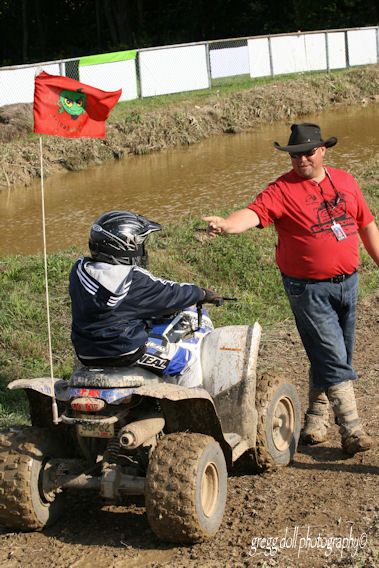 The first competitor on Saturday morning was in the 7-12 age group. He is directed by the pit boss to wait until the clock starts for the timed event.
After about 48 seconds he crosses the finish line.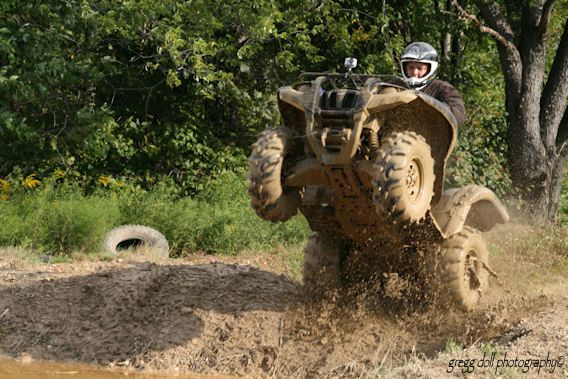 One of the adult competitors gets his ATV up on two wheels just before launching himself into the double mud pond.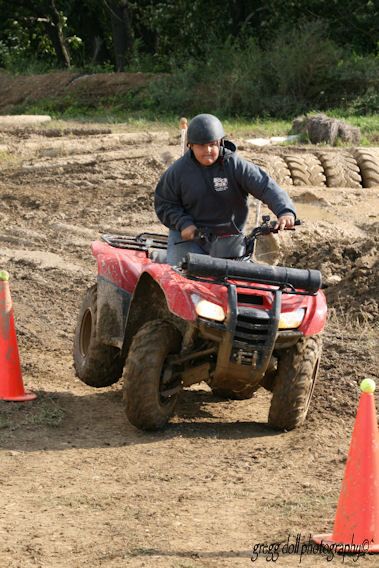 Here the object was to go through the slalom as fast as possible without knocking the yellow balls off the traffic cones.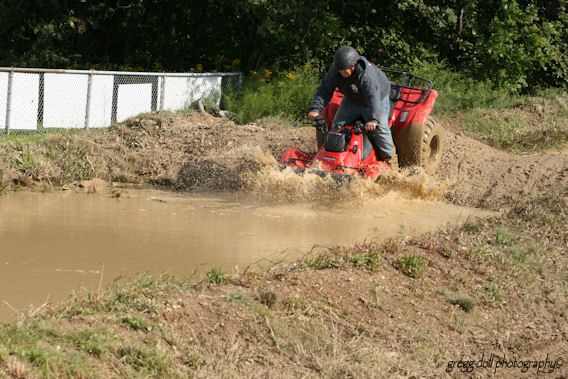 Taking a header into the first of the double mud ponds.
Coming down to Rock Run from Erie, PA, this competitor proudly displays his "Terrible Towel" as he runs his 800 Polaris through the slalom course.
Finishing the adult slalom course with a time of 5 minutes and 44 seconds the competitor from Erie still displays his "Terrible Towel" but it's a bit muddy.
One of the young competitors clearing all four wheels on the Hoop-De-Doos.
The ladies tried to stay stylish even while playing in the mud.
Girls just want to have fun!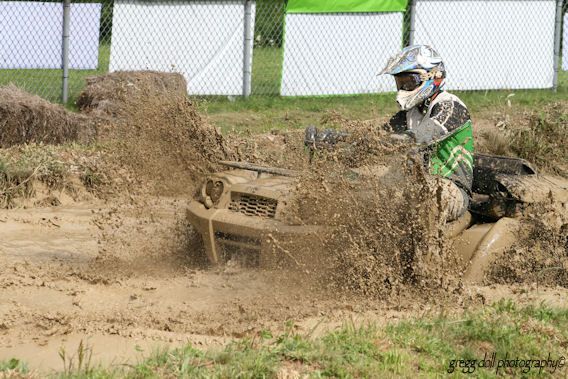 Stirring up the mud.
The course was open to side-by-sides as well as quads.
The optional doors on a $10,000 machine do help to keep your shoes dry.
Is this any way to treat a camera?
Everyone gets muddy at Rock Run.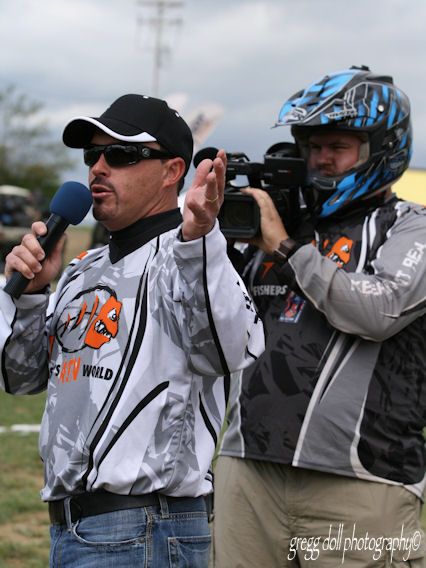 Brian Fisher, the host and producer of Fisher's ATV World on the Outdoor Channel, addresses riders before they head out on a trail ride. The event was filmed for a segment on a future show.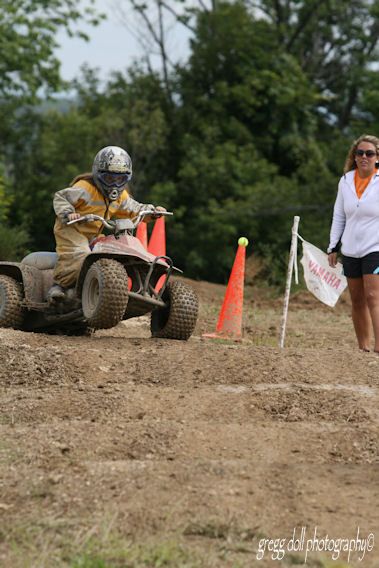 This 7 year old rider has celebrated several of her birthdays during the ATV Reunion. This year Brian Fisher sang "Happy Birthday" to her which tickled her to no end.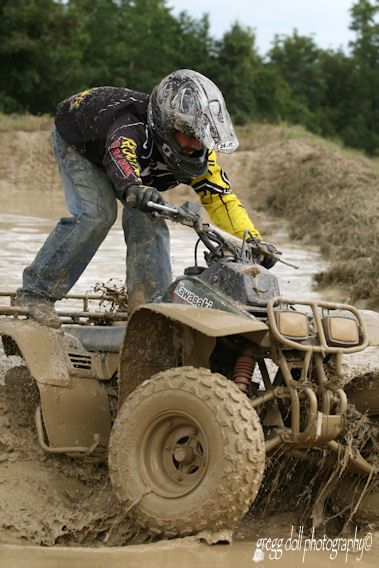 The object of this rider's position is two fold. One is it gets a little more traction by putting his weight over the wheels. The other is he doesn't get his shoes and pants coated with as much mud.
Unlike the previous rider, this competitor was hell bent for leather as he attacked the mud ponds at full throttle.
Yamaha YFZ 450 rising from the depths of the mud ponds.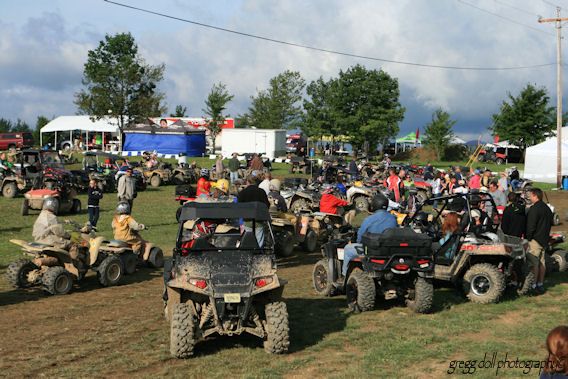 Riders congregate prior to heading out on one of the trail rides lead by Brian Fisher.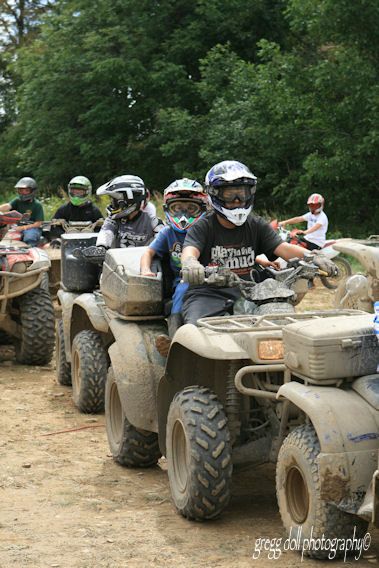 All dressed up and no place to go.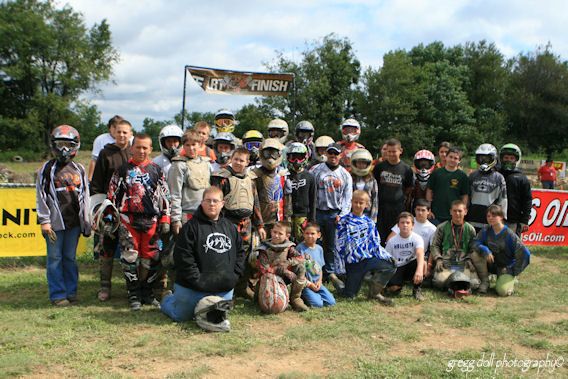 Some of the riders pose with Brian Fisher just prior to departing on a ride.
ATVs parked after returning from a trail ride.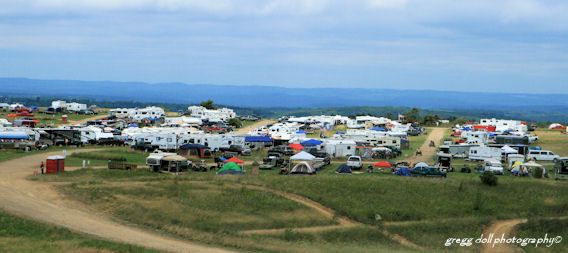 A last parting shot from Rock Run showing one of the many camping areas at the 6,000 acre facility.