Although the airport festival is a Saturday / Sunday event, most of the big airplanes that will be on display fly in on Friday. Never knowing exactly when the planes are coming in I get to the airport early so that I can get pictures of their approach, landing and parking so that I have at least one or two pictures without a crowd around the aircraft.

Friday - 14 June 2013
Because I get to the airport early in the day I get to see several different types of aircraft that come and go. This photograph shows a 1997 Cessna Model 550 Windstar 9-seat corporate jet.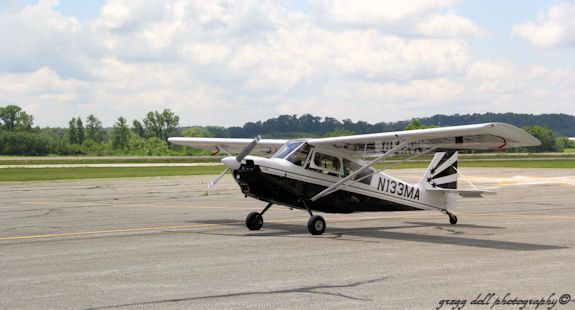 2008 American Champion Aircraft Citabrim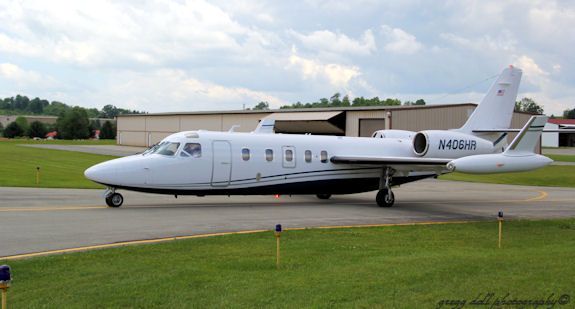 Another of the corporate jets that happened to come into the airport on Friday afternoon was this Israeli Aircraft Industries Model 1124A. It is a 12-seat twin-engine turbo jet.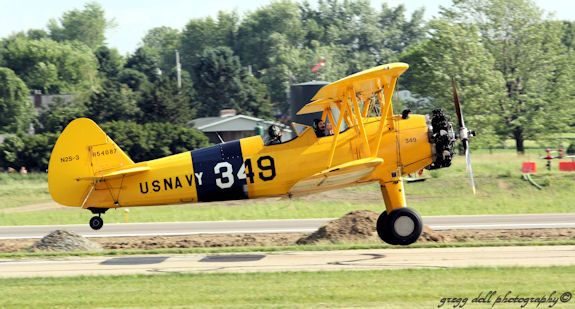 After a long wait in the hot sun the weekend show pieces start to arrive. The first to land was this Boeing Stearman E75 also known as an N2S/PT17. The aircraft flew in from Florida and is capable of flying at 124 miles per hour. It can cover 500 miles on a tank of gas.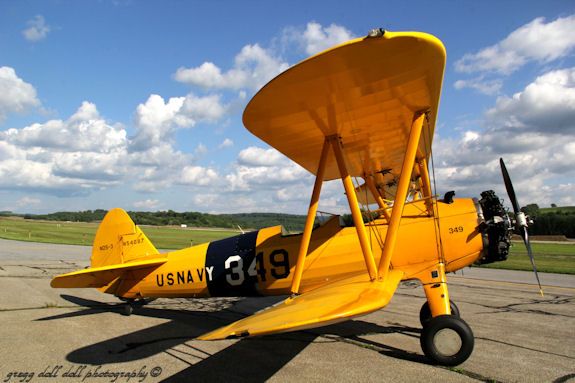 Another shot of the Stearman before it was put into a hangar for the night.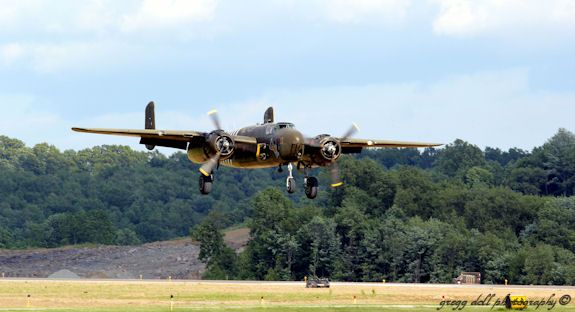 Known as the Barbie III this B-25H Mitchell bomber built in 1943 is one of only 25 that are still flying in the U.S. Through talking with the air crew I found out that the airplane was bought from the US government in 1969 for $3,500.
C-46 Tinkerbell coming in for a landing. The airplane was built by Curtiss Wright Aircraft Company in 1941. Its real claim to fame was its ability to fly over "The Hump", the Himalayan Mountains. With its 1700 horsepower motors the transport was able to carry up to 40,000 pounds of cargo.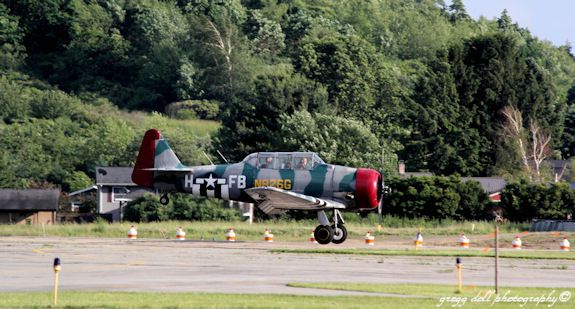 Next in line is the AT6-G Texas Trainer. Known as the Pilot Maker, this low wing mono-plane with its 550 horsepower Platt and Whitney engine is capable of 205 miles per hour. This plane was built in 1952.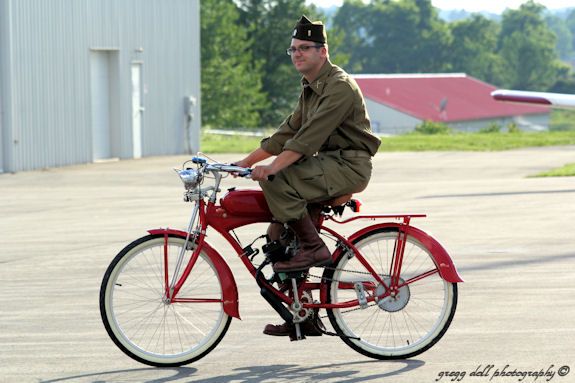 One of the WWII re-enactors rides his pristine Wizard motorized bicycle around the airport.

Saturday - 15 June 2013
B-25 sitting in the fog at 07:15 Saturday morning.
1942 Dodge Carryall
With the fog starting to lift, the T6 gets fueled up and serviced.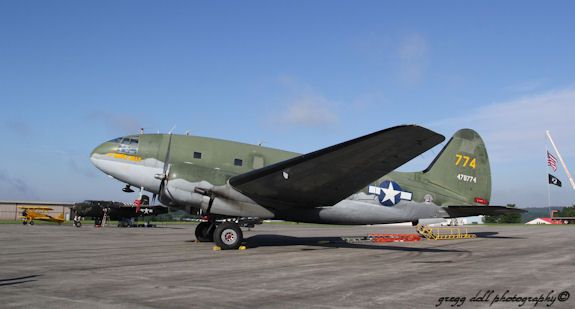 C46 Tinkerbell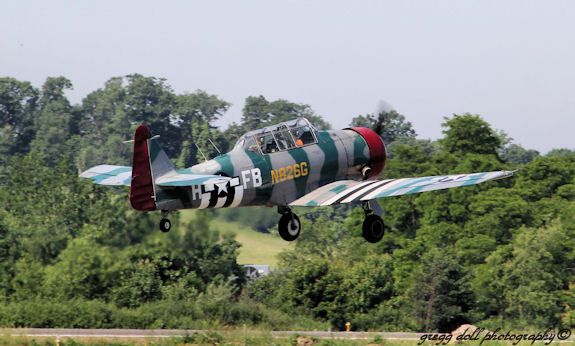 T6 trainer taking off with its first passenger.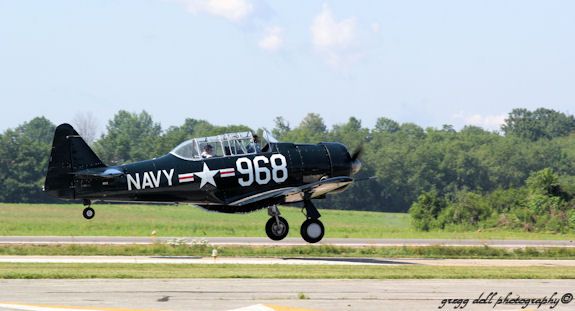 Navy version of the AT6 Texan is this SNJ-5 built in 1958.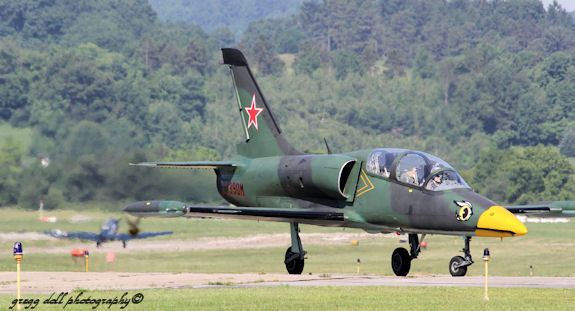 L-39C Albatross is a jet trainer built in Czechoslovakia by Aero Vodochody. It is now based in Lock Haven, PA.
SNJ taxis into the static display area at the Jimmy Stewart Airport.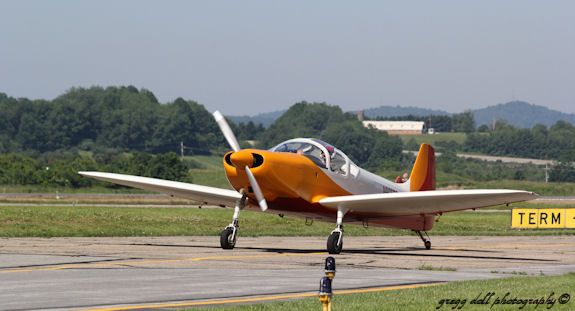 Designed by Piel Emerande this homebuilt CP-32A flew in from Churchill, PA.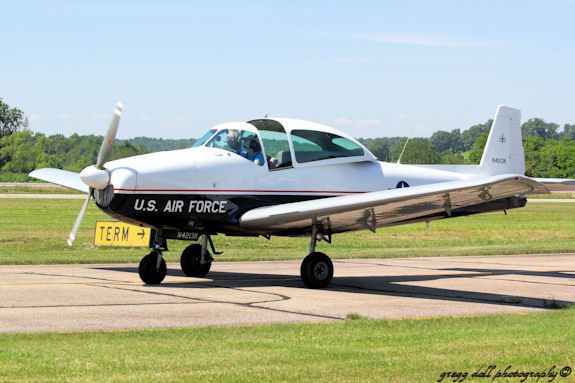 1948 Navion Model A a four-seater with a 205 horsepower Continental motor. The aircraft flew in from the state of Virginia.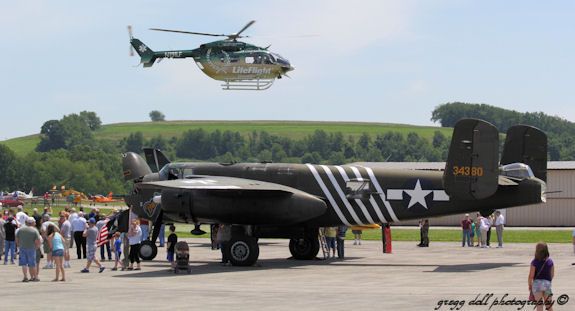 The LifeFlight helicopter lifts off from the airport and flies over top of the B-25 as the chopper makes its way back to the Indiana County Hospital late on Saturday afternoon.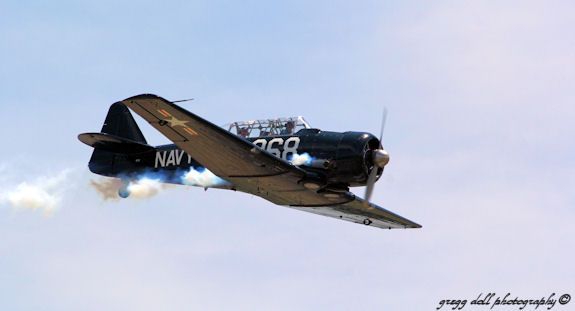 Navy SNJ leaves a smoke trail as it does a fly-by down the main runway.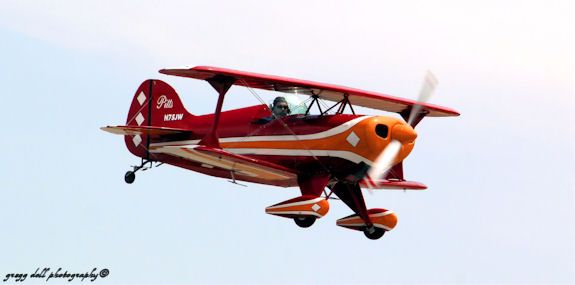 My friend Scott gives me a look as he does a fly-by in his Pitts Special before climbing to about 3,000 feet over the airport to do barrel rolls, and upside down flying.
T6 does a fly-by over the field before heading home to Lock Haven, PA.