Now in it's fourth year, the Arts in the Mountains, Summer Music and Arts Festival, at Saint Francis University continues to grow. Rather than me trying to sit here and write about this great program, I will direct you to the Arts website
http://www.artsmtn.com/
. I would also add that if you have an interest in the arts, this might be a program that would be well worth your time to check out. Part of the event are free concerts on Friday and Saturday night. Friday featured song writers and Saturday featured international music.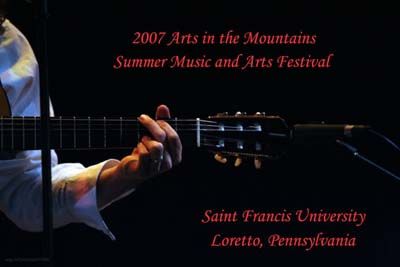 You know how sometimes you have an idea and for some unexpected reason it seems to work out a lot better than you thought it would. Well, this photograph is one of those times for me. All I was looking for was a nice shot of the guitar player's fingerwork that I could include in this week's blog. But after looking at it, when shown with the rest of the pictures, it just didn't seem to fit in with the theme and I had almost come to a point of dropping it completely. It was while re-reading the concert program that the idea hit me to add the text to the picture and use it as the opening photograph.

Chuck Olson, Chair, Fine Arts Department, Saint Francis University, addresses the crowd prior to Friday night's free concert - Universe of Song Songwriter's Showcase Concert.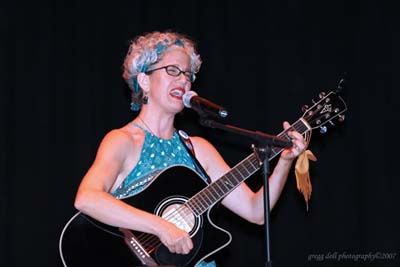 Rachel Allen, Johnstown, PA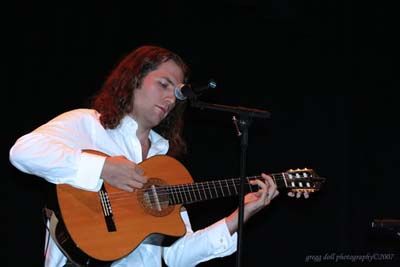 Christopher Bohn, York, PA - teacher and sound therapy practitioner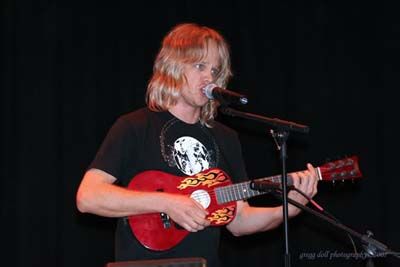 Paul Berkobin, director of Universe of Song, and his "flaming" guitar.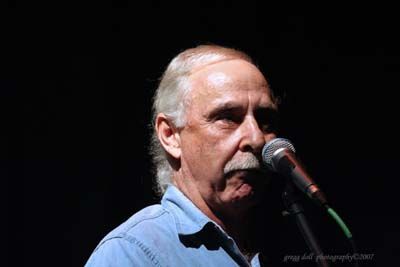 Bob Corson - professional musician since 1964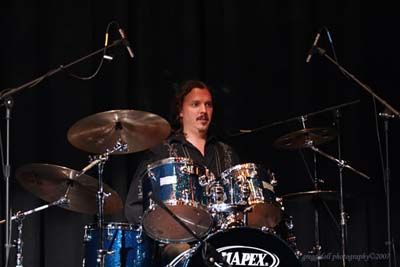 Jim Donovan joined Paul Berkobin and Bob Corson on stage.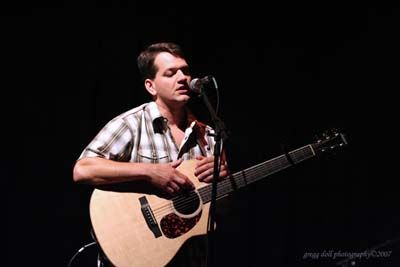 Dan Murphy, Indiana, PA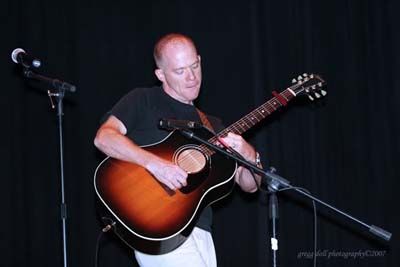 Dave Antolik, Indiana, PA.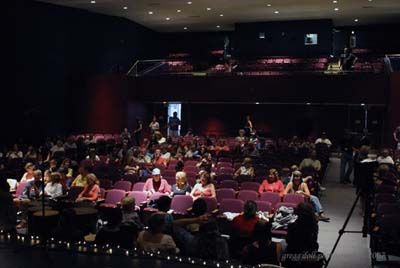 The Venue - early arrivals to the theatre in the JFK Student Center, on the campus of Saint Francis University

Jim Donovan, founding member of Rusted Root, Saint Francis University faculty member and Director of the new Saint Francis University World Drumming Ensemble, addresses the audience at the beginning of the Saturday night International Music Stage.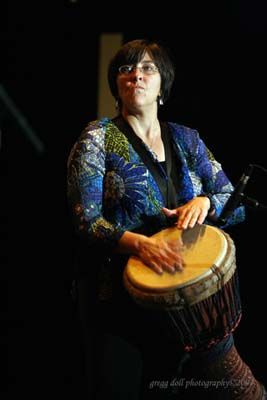 Maureen "Moe" Jerrant - Allentown, PA

Jim Gagnon, Charlottesville, VA plays a Native American flute.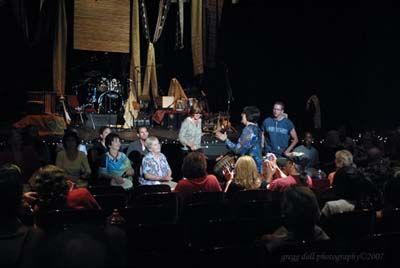 "Moe" and The Rhythm Renewal Drummers - students who participated in the workshops.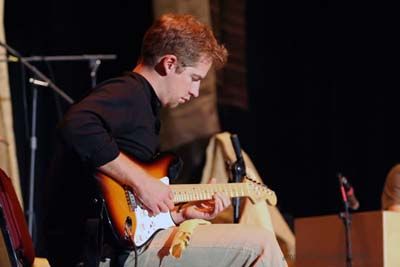 Colter Harper, Pittsburgh, PA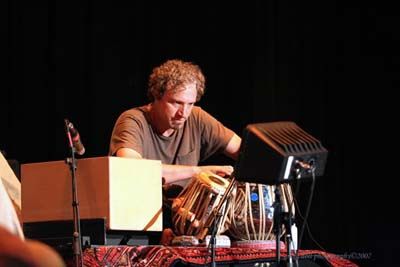 Jim DiSpirito, Pittsburgh, PA, also a former member of Rusted Root.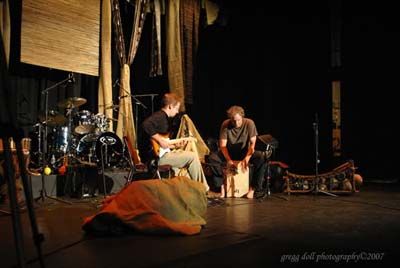 Colter Harper and Jim DiSpirito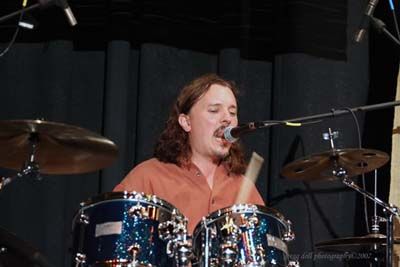 Jim Donovan's Drum the Ecstatic International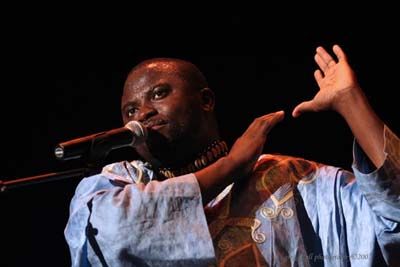 Eli Kihonia, Democratic Republic of Congo, founder of Afrika Yetu.

Mike Deaton, Harrisonburg, VA, P.J. Roduta, and Bryan Fazio - members of Drum the Ecstatic International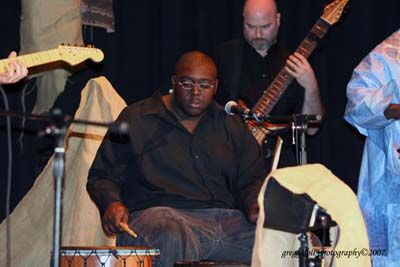 Brandon King, a student at Saint Francis University, and member of Drum the Esctatic International.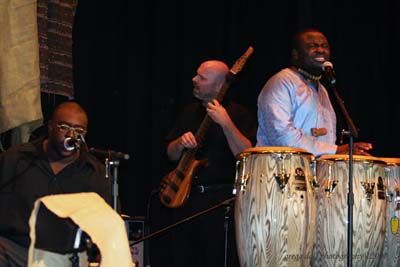 Brandon King, Bill Burke and Elie Kihonia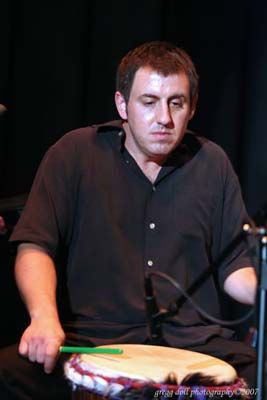 Bryan Fazio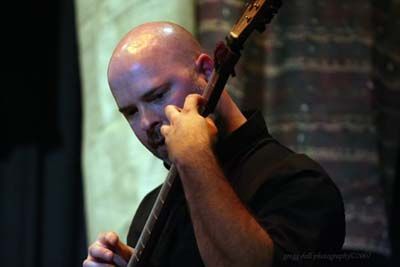 Bill Burke, on a 12 string guitar.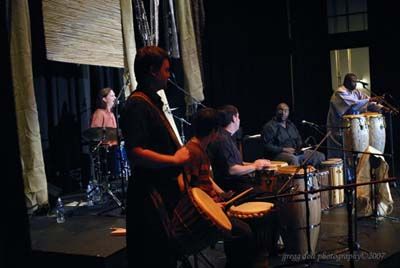 Drummers

P. J. Roduta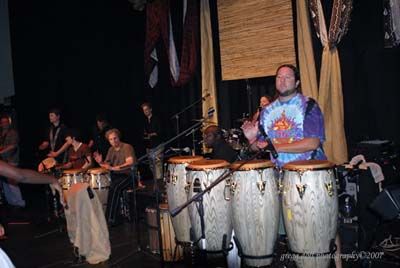 Jim Gagnon on the congo drums.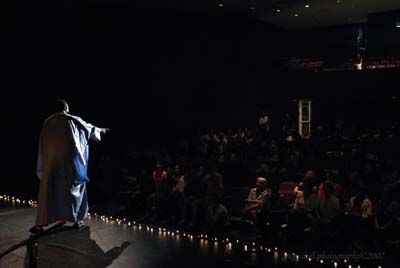 Elie Kihonia reaching out to the crowd and getting them involved in the music and the atmosphere.