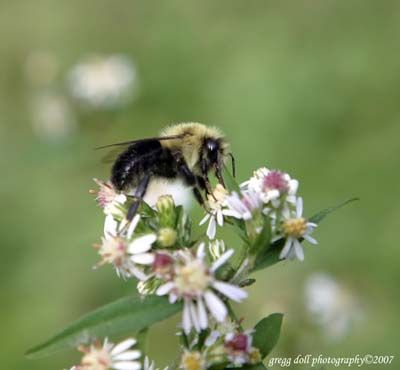 Bumble bee

This is the time of the year that the bees seem to be really busy getting some last minute shoppoing done before the cold weather starts to set in.

Wasp




Groundbreaking for the DeSepio Institute for Rural Health and Wellness took place Friday afternoon on the campus of Saint Francis University. The $7 million addition to the campus is scheduled to be completed in 2009.



After leaving Saint Francis it was off to Sidman for the Forest Hills vs. Central Cambria football game. Here is Central Cambria taking the field prior to the start of the game.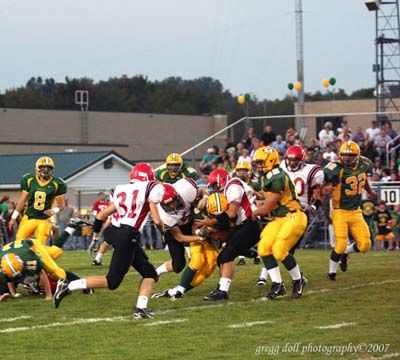 Scott Mehall, tailback for Forest Hills goes for a short gain before running into the arms of Red Devils' Benjamin Schultz and Kaleb Handlon.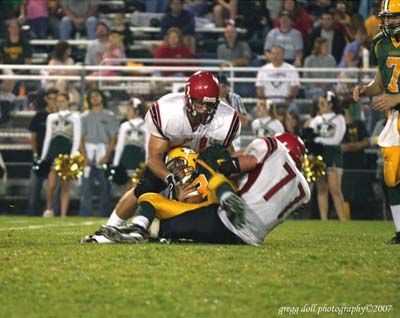 Logan Caldwell and Mitch Blackwell of Central Cambria bring down Jared Kosta of the Forest Hills' Rangers.

The Red Devils' Ben Ridgeley goes up for the reception against Forest Hills' defenders Tyler Rosenbeger and Brandon McLaughlin.

Central Cambria's P. J. Taylor defends against a pass to Brad Keller of the Rangers.
Central Cambria won 27-14.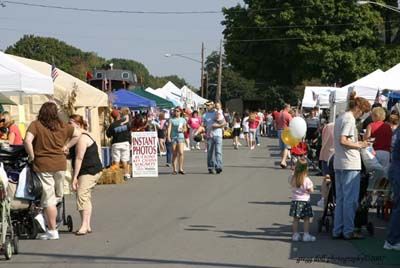 Tenth Annual Cresson Area Heritage Days along Front Street in the borough.

With his mother looking on, this young man tries to choose a stuffed toy at the pick-a-duck stand.

One of the perks of going to the Cresson Heritage Days is the fact that all of the weekend's activities are held next to the mainline of the Norfolk Southern Railroad. Two rail fans, one from Wilkes Barre, PA and the other from Connecticut, videotaped the trains as they passed by. To see some of their work, visit their web site at http://www.photorunby.com/.




Saint Francis sophomore, defensive back, Siafa Lavaia, makes this pretty tackle on running back James Mallory of the Central Connecticut Blue Devils.



Linebacker Tyler Gillman of the Saint Francis University Red Flash grabs on to Ralph McKenley, Central Connecticut's running back.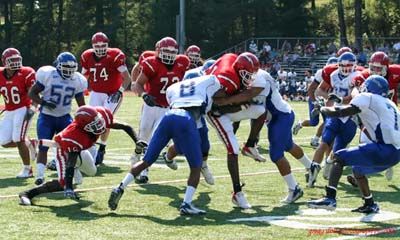 #21, Calvin Williams, runs up against a strong Blue Devil's defensive line during Saturday's game at the DeGol Field.

This blocked kick, just one of the many things that went wrong for the Saint Francis University during the 43 to 7 loss to Central Connecticut.


I got this shot of a young lady and her pet box turtle as my wife and I were setting up my stand at the Apple Cider Festival held at Prince Gallitzin State Park on Sunday.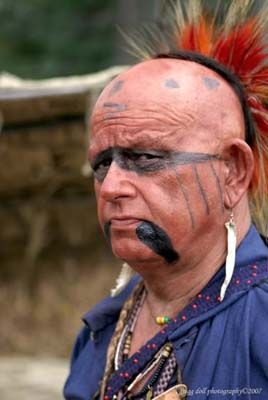 Native American.

Once again this year, my friend Tim Klock was one of the several demonstrators on hand to share his skill and knowledge with the Apple Cider Festival crowd.

Doug Steigewalt of the Shaver's Creek Environmental Center, talks about a Barred Owl as an enthusiastic crowd watches. As part of this presentation, Doug and the folks from the Center brought with them the birds shown in the following four pictures.

Broad-Winged Hawk
13 to 17 inches tall, has a wing span of 32 to 39 inches and weighs between 9 and 20 ounces.

Barred Owl
17 to 20 inches tall, has a wing span of 39 to 43 inches, and weighs between 16 and 20 ounces.

Great Horned Owl
18 to 25 inches tall, with a wing span of 40 to 57 inches, and weighs between 32 to 80 ounces.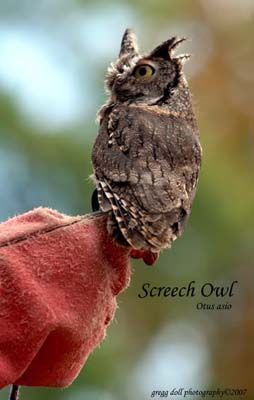 Screech Owl
6 to 10 inches tall, has a wing span of 19 to 24 inches, and weighs between 4 and 9 ounces. This bird is sitting on the pointer finger of the handler.


Tools leaning on a shed wall.

Boat and pond, in black and white.