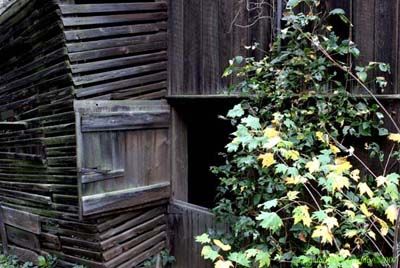 1920s barn on a back road near Glendale Lake.

This building and the next picture are part of an abandoned factory complex near Irvona, PA along Route 53.

This picture was tinted in sepia in PhotoShop.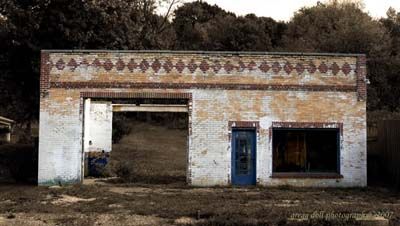 Another abandoned building along Route 53 is this old gas station in the borough of Coalport, PA.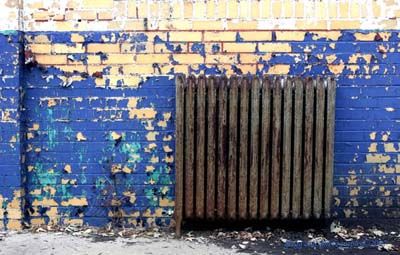 An old hot water radiator rests against the wall in the old gas station. I'm really surprised that the radiator is still sitting here and has not been refurbished and in someones house.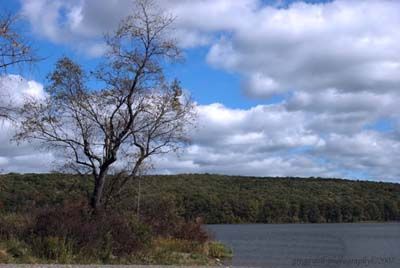 Just another beautiful day on Lake Glendale. Shown here is the Beaver Run boat launch area. Notice the pattern of the wind on the water.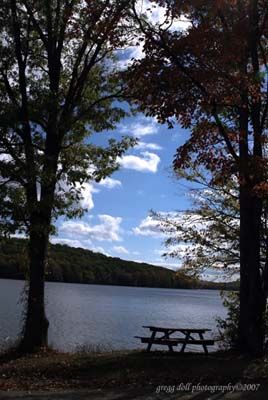 This is the McKee's Run boat launch area. I was standing here taking this picture, I watched an osprey soaring overhead. But, before I could change cameras and get a shot, it was gone.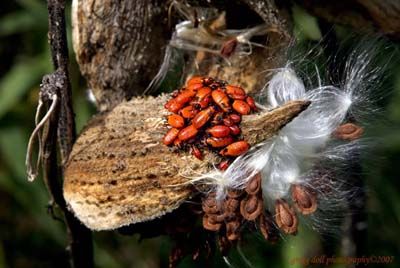 Milkweed pod and milkweed bugs, also shot at the lake.
http://www.allaboutbugs.com/

The next series of pictures were shot in Bedford, PA during their 43rd Annual Fall Foliage Festival, a two weekend event that takes place every October. This is one of the largest arts and crafts festivals in the area with over 400 craftsmen and live entertainment at the event. http://www.bedfordcounty.net/

This picture and the next three were shot on the Juniata River at Bedford, PA and are more or less an exercise in composition and color.

Kayaker enjoying a Sunday morning paddle on the river.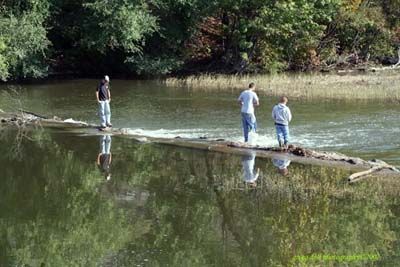 As I was taking the pictures of the kayaks I also shot these three fishermen standing on a dam. Their luck was good, as I saw them catch several rock bass.

I really like this photograph. This is Jerry Hazzard, a volunteer at the Bedford Fall Foliage Festival, directing traffic to a parking area down by the river front. What drew me to Jerry and this picture was his bellbottom blue jeans. I thought they were so cool and comfortable looking.

Using only a point and shoot Olympus camera, this brother and sister team had a stand and were selling some of their work. For as young as they are, they showed a lot of talent and I told them so right before I purchased one of their prints of a log building shot at the Bedford Village tourist site, north of town.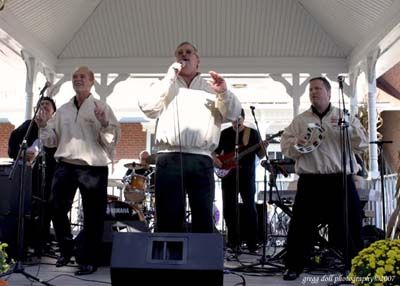 The Vogues
A 1960's group from Turtle Creek, PA. During it's hayday, the group had 14 Billboard Hot 100 hits, including Earth Angel, You're the One, and Turn Around Look at Me.

Wok'n on Fire!

Back before homes were covered with asphalt based shingles, they were covered, for the most part, in slate or wood. This machine from the Chase Turbine Company of Orange, MA, patented February 19, 1889, cuts and edges the wood shingles one at a time. The machine automatically feeds the 16 to 18 inch log and tapers each piece as it cuts.

The operator then feeds the shingle, one by one into the edger, by hand.

Ryan Jessee, a glass blower and vendor from Johnstown, PA, gives a demonstration early Sunday afternoon during the Bedford Fall Foliage Festival. The glass is heated to over 2,000 degrees F.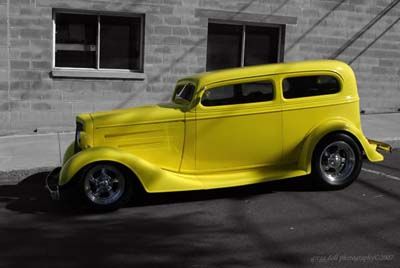 Coming out of Bedord, feeling right at home and looking real pretty is this 1934 Chevy hot rod. With a 327 cubic inch, 300 horsepower mill under the hood, the machine is chopped four inches, has air, power windows, keyless entry and sits on 4 mags from Billet Specialties. By the way, it's for sale. If you have a serious inquiry, email me and I'll send you to the owner.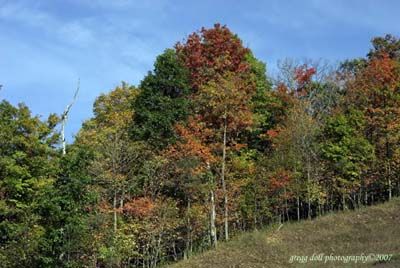 Changing leaves, as seen at 65 miles per hour, heading up Route 220/99 after leaving Bedford. Thank goodness my wife was driving!


This is the first play of the Academic Year by STAR Productions at Saint Francis University, of Loretto, PA. It is called Francis and the Fire of Love.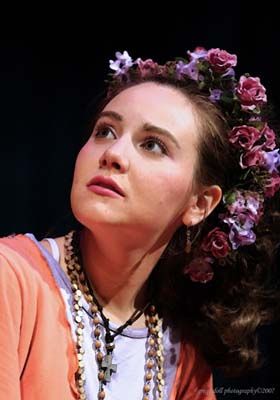 Isola - Claire McCall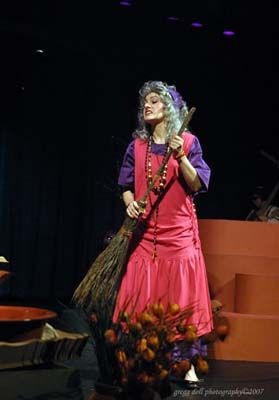 Annunziata - Bronwyn Stevens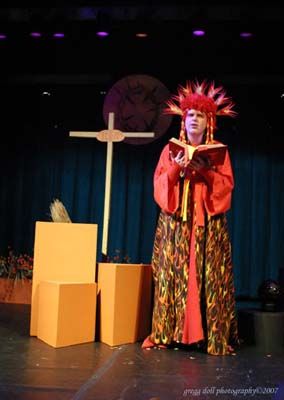 Brother Fire - Scotty Boshinsky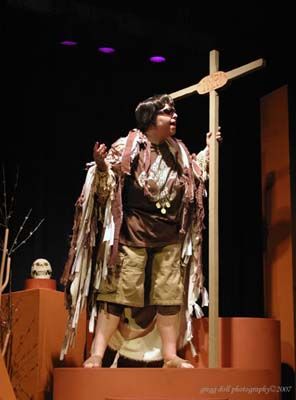 Francis - Anita Fusco-Baumann

From left to right: Brother Earth (Brian Davis), Sister Fire (Penelope Doll), Mother of Us All (Tatyanna Fox), Sister Water (Miram Shankweiler), and Brother Air (E. J. Victoria)