Just one of this week's photography was shot as part of a job and that is the last one in this week's issue. The rest were shot as part of a self-imposed week's vacation.
Monday, 14 July 2008 - Out for a ride on the bike using the Fuji 5700.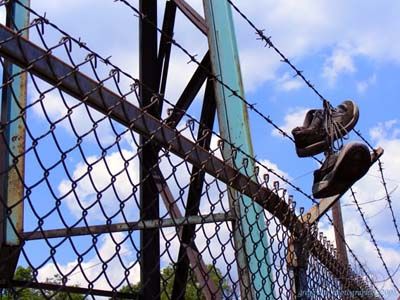 I stopped to shoot the coal mine along Route 53. The first thing to catch my eye was this old pair of sneakers.

After the coal leaves the mine it is cleaned, separated, and comes out here to be piled up before being loaded onto coal trains.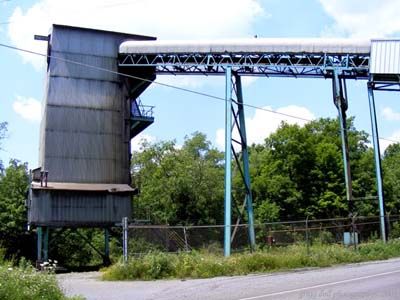 When there is enough coal on hand, coal cars are brought in and the coal is loaded at this point.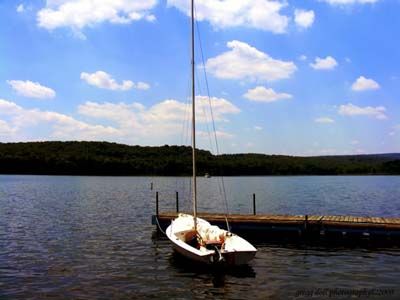 I'm pretty sure that this shot of a sailboat on Glendale Lake will make for some nice wallpaper when the snow flies this winter.

Thursday, 17 July 2008 -- On the road to St. Mary's PA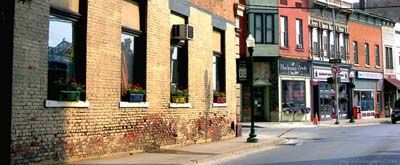 Driving into the downtown section of DuBois, PA on Route 219 North. We're taking the long way to St. Mary's. On a good day this would take about 2 hours.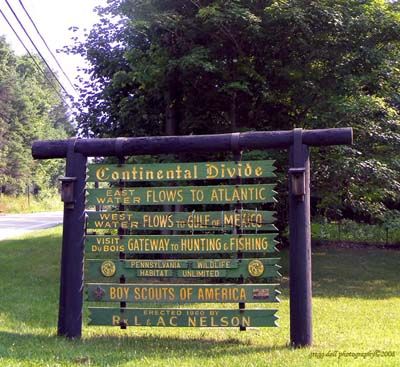 Continental Divide marker on Route 255 North of Penfield, PA.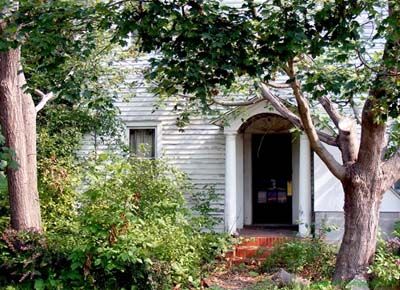 Old house in Weedville, PA on Route 555.

One of our goals was to see if we could spot any elk along the scenic elk drive through Elk County. We got lucky and spotted this female (cow) elk in a yard. We also heard another elk call to her from the hill across the road.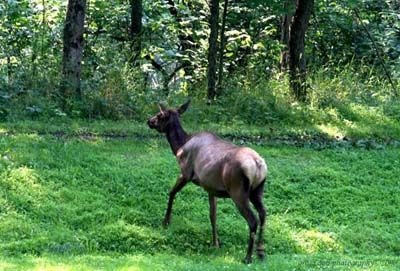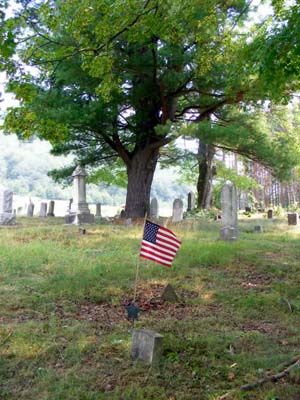 Hicks Run Cemetery, Route 555. Grave markers here go back at least 160 years.

Swimmers shot from a pedestrian suspension bridge across the Bennett Branch of the Sinnemahoning Creek.

End of the road for Route 555. Here in Driftwood you pick up Route 120.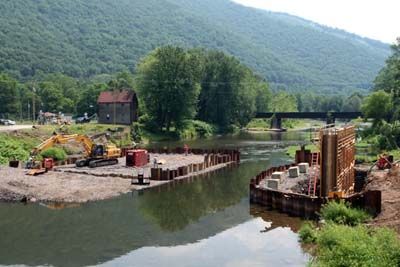 A new bridge is under construction to replace the one I'm standing on which is also seen in the previous picture.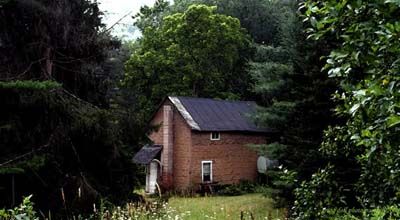 Old Cabin.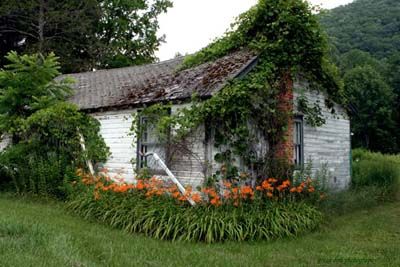 This building and the next are across the road from each other.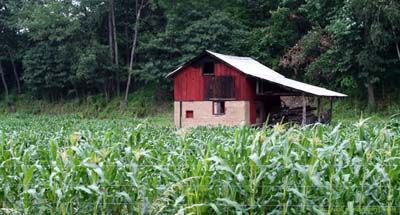 Red barn sitting in the middle of a corn field.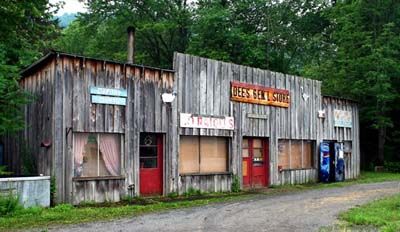 Dee's General Store and Gift Shop, Route 120.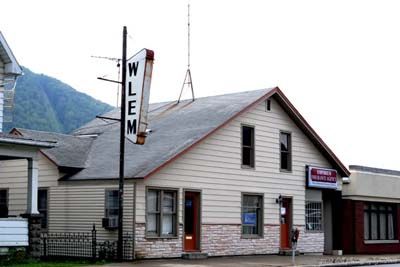 WLEM-1250 AM in Emporium, PA is truly a throw back to the old days of real hometown radio. You folks have heard of AM radio right....well, some of you.
http://www.endeavornews.com/news/2008/0216/front_page/006.html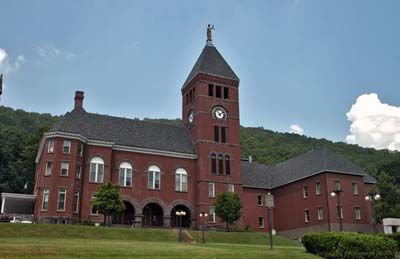 Cameron County, PA Court house in Emporium, PA.
http://www.cameroncountypa.com/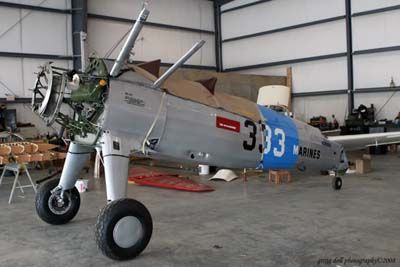 I'm a sucker for small airports, you just don't know what you might see. I got lucky at the St. Mary's Airport. Getting a ground-up rebuild is this Stearman PT17. In its new life it will carry the colors of the USMC. There are several other planes undergoing restoration including a Vultee-BT-13 Valiant trainer.

Rebuilding the wings.

At last, St. Mary's PA.
It took 6 hours to get here and we're only 2 hours from home.

Friday, 18 July 2008 --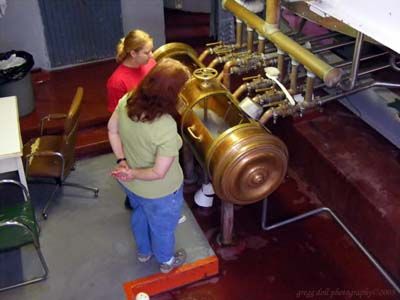 Kristin Straub talking to my wife about brewing beer. We were the only 2 people on the first tour of the day. This was the planned part of our trip. We knew the plant would be brewing beer on this day so we got the whole tour of the plant.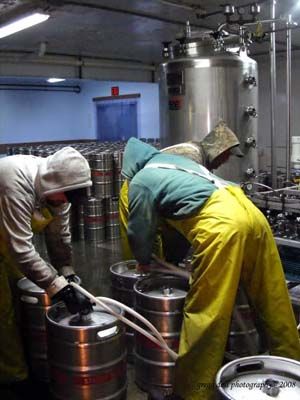 Filling kegs, 6 at a time. Straub's draft beer isn't pasturized so it must be kept cold at all times.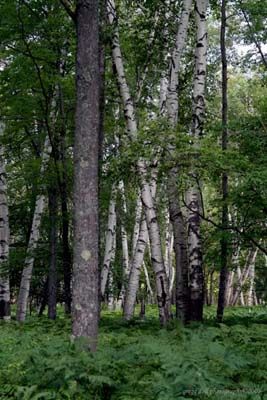 White birch growing along the Quehanna Highway at the Marion Brooks Natural Area which contains 975 acres of white birch.
http://www.purplelizard.com/images/CDT%20maps/quehanna.htm

Saturday, 19 July 2008 -- 11th Annual Native American POW WOW, DelGrosso's Amusement Park, Tipton, PA.

Jeff Baily, drummer.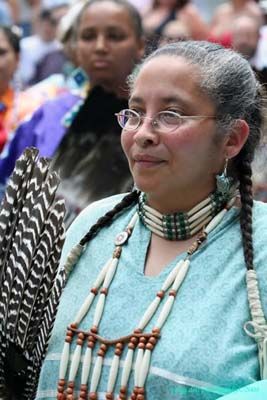 Native American woman dancer at the Pow Wow held at DelGrosso's Park in Tipton, PA.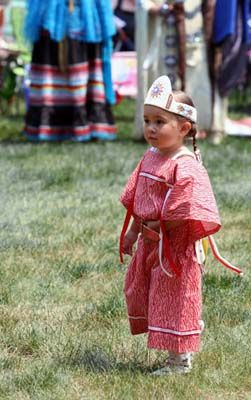 Child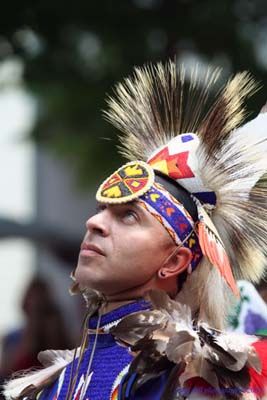 Warrior -- U.S. Marine -- Combat Veteran

Dancer

Charles Eagletail


Monday, 21 July 2008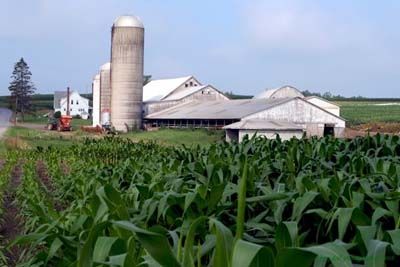 Farm along the Chest Springs-Loretto Road in Allegheny Township, Cambria County, PA.

St. Elizabeth Residence Hall on the campus of Saint Francis University, Loretto, PA. Built in 1961.