With the exception of the first three photographs, all this week's pictures were shot, more or less, for two of the local papers.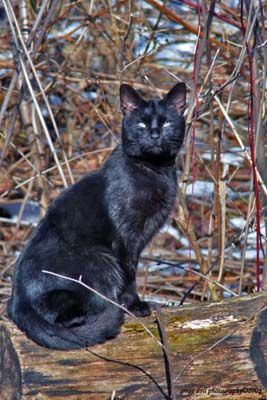 We still haven't come up with a suitable name for the black cat. But after watching it walking, or should I say prancing its way down a path into the yard with a gray squirrel held tightly in its teeth, I'm leaning toward calling it Pan-Thor. I shot this picture right after the cat woke up from a nap on the log.
The next two frames show a drop of water about to fall from an icicle shot at 16/100th of a second. The little thread of water that is still holding the drop to the icicle will itself become a drop of water, but 50 times smaller than the first drop.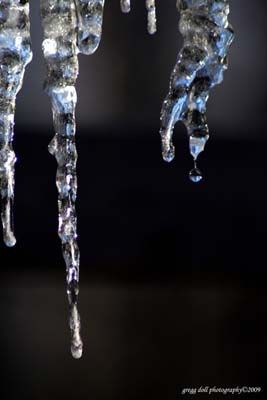 Same as above, but different.
Actually, what I did here was invert the positive.

Ash Wednesday and the start of Lent means that the local fire companies and churches sponsor their annual fish frys on Friday nights until Easter. The
Spangler Fire Company
has been doing this for a number of years now and with their new Contres-Greer Social Hall kitchen running at full bore they served over 900 dinners this week.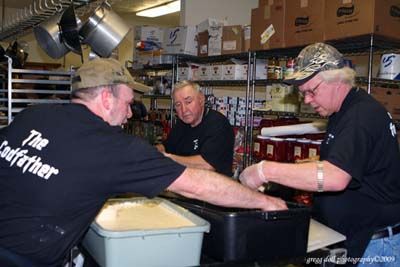 Gary "The Codfather" Talerico takes a break from running the frier and lends a hand to Bob Bradford and Jim Lutch as they soak and bread fish.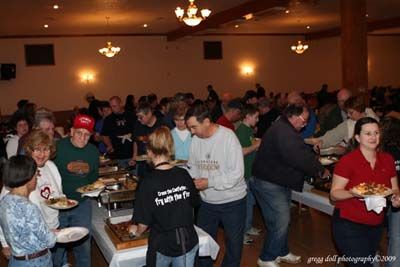 The huge Contres-Greer Social Hall was filled to capacity as the community came out to support the fire company and enjoy a meal with friends and family celebrating the start of their Lenten season.

After leaving the gourmet fish and chicken meal prepared by the Spangler Fire Company we headed down to the Northern Cambria theater district, better known to the locals as the
Northern Cambria Elementary/Middle School
, for a wonderful presentation of Oscar Wilde's short play called
The Happy Prince.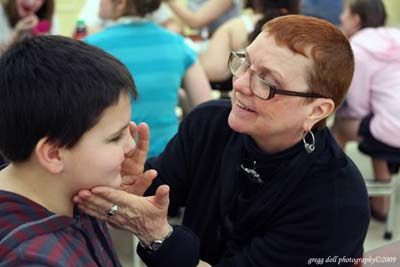 "Play director, seamstress, set designer, jackie of all trades" Bonnie Resinski helps Owen Baker get his make-up right.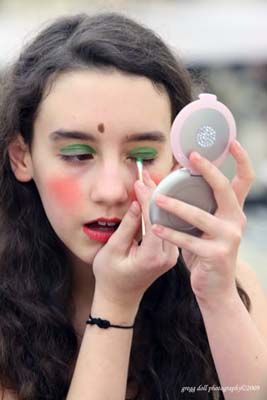 Katelin Fox who portrayed the maid of honor works on her make-up backstage in the dressing room (aka school cafeteria).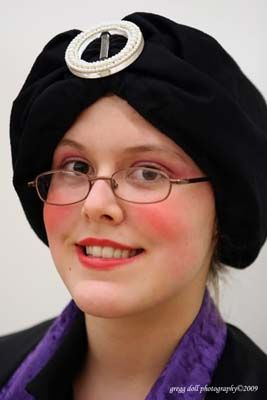 Ashley Back, a professor.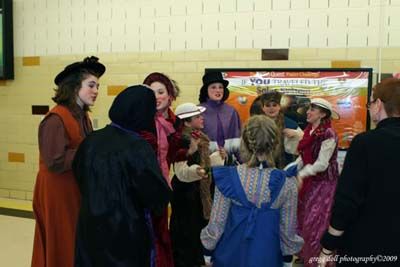 Getting in some last minute vocalizations before the curtains open.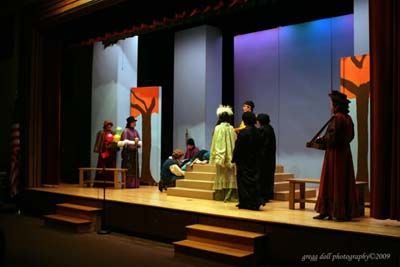 Scene 1, Act 1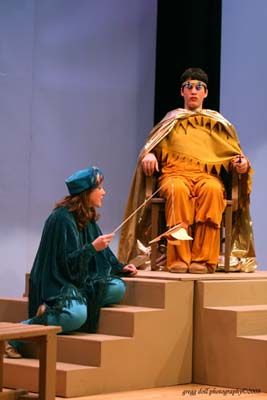 The Happy Prince and The Swallow.
Kevin Zedack and Kylie Laney.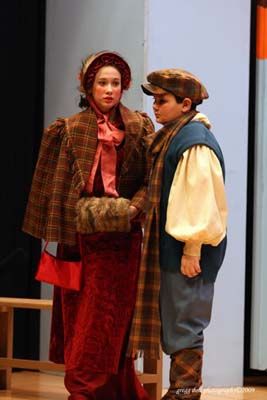 These are the rich folks.
Ashley Farabaugh and Owen Baker.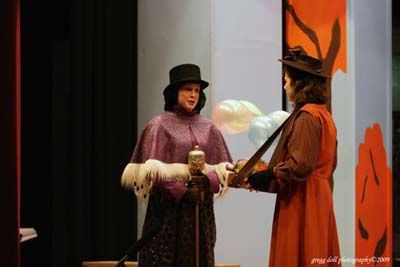 Her Honor, the Mayor - Breanna Powers
The Vendor - Jessica Sodmont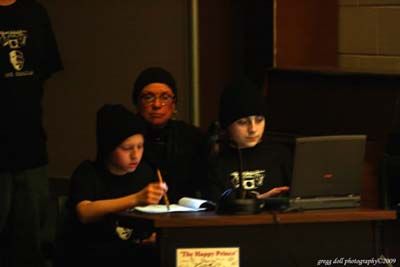 Bonnie and the Sound Crew
Robbie "Soundman" Bailey and Noah "Ark-man" Kelly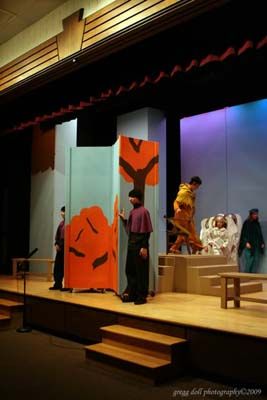 Scene Change
Emily Maines and Ian Powers, Mayor's Guards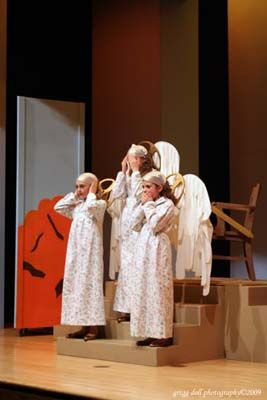 I don't know one angel from another so here are Kyleigh Davis, Kayla Sherry and Cheyenne Gaston.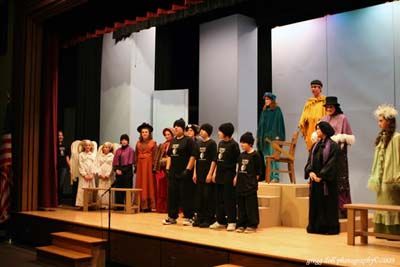 Final bow before the curtain closes.

Admiral Robert E. Peary was born in Washington Township (now Cresson Township) 152 years ago. To commemorate Admiral Peary's century-old discovery of the North Pole on April 6, 1909, an event was held at Prince Gallitzin State Park. Sponsored by the Cresson Area Historical Association, the dog sled festival provided visitors with an opportunity to learn more about Peary and dog sledding.

With no snow on the ground for the dog sleds, this young lady gets a ride on a three wheel trail sled that is normally used for training.

Rex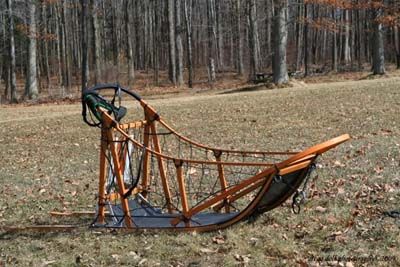 A short, two-man, hand-made snow sled.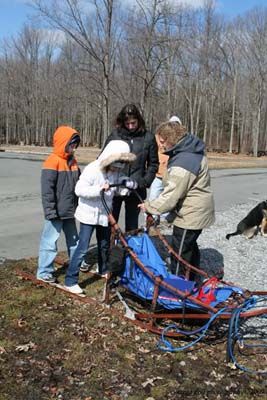 Twins, Jason and Katie Plucket, from Altoona learn about the nomenclature of a three man sled. This sled differs from the one in the previous picture in that it allows two people to stand on the elongated runners.

Nick Thomas, who grew up in Hastings, now an Environmental Education Specialist at the Bald Eagle State Park in Howard, PA, returns to his old stomping grounds at Prince Gallitzin State Park to provided demonstration on various ways to make fire without matches and other woodmen's lore. Here Nick is making hot embers with a stick, a piece of rope and a small block of wood.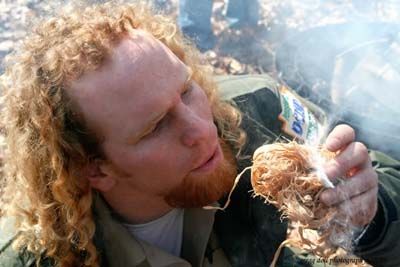 Once he has the embers he wants, Nick wraps them up in some wood shavings and blows lightly on them until he gets a flame. Altogether it took Nick less than a minute to go from nothing to fire, but he said it took a lot of practice to get to this point.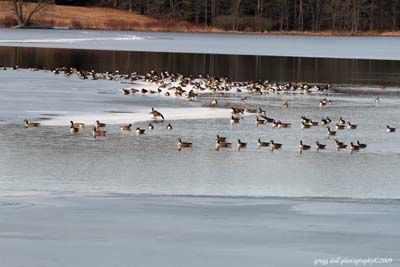 As I left the park I stopped to take this shot of the Canadian Geese sitting on Glendale Lake. Earlier in the day there were also some Snow Geese sitting on the ice.

The last two shots for this week were taken at a basket auction fund raiser held at the Hastings Memorial Building for a local automobile accident victim.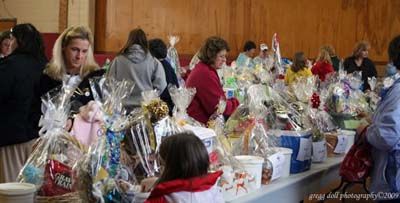 Barb and Leo Cloud, of Hastings, PA check out the baskets on display while making their choices.