I was going to title this week's blog issue A Day at the Beach but changed my mind at the last minute. Since we are publishing on April Fool's Day it would have been way too easy. Funny, maybe, but still too easy.
All of this week's pictures were shot on Saturday morning while driving over to Portage, PA to go grocery shopping at Stager's Store.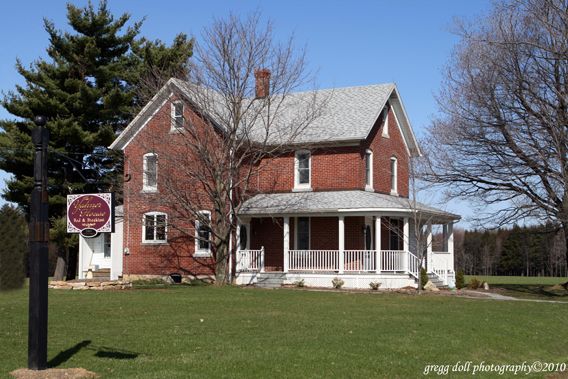 Just recently refurbished, this 100 year old farm house is now open as Yahners Bed & Breakfast east of Patton, PA along Route 36. With only three rooms each with a private bath, there is plenty of room for guests to stretch out on this working potato farm.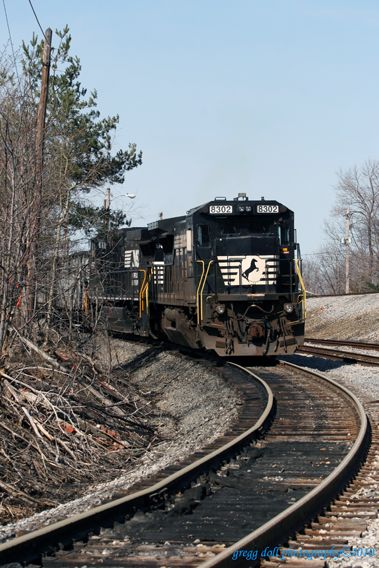 I found these two Norfolk Southern diesels sitting on a siding just behind the maintenance yard at Cresson on our south bound trip to Stager's Store in Portage, PA. Most of the visitors to Cresson who watch trains miss this because there are seldom engines sitting here.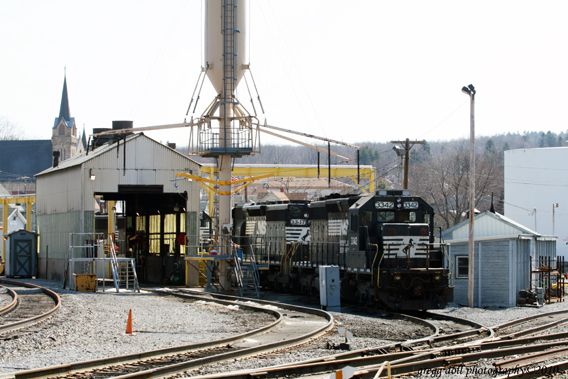 As far as the physical layout of the maintenance shop changing goes, its been the same for years, I still stop and take a new picture or two from time to time.

Talk about living next to the tracks, this chair is in someone's yard.

Our next stop was at the Iron Bridge Railroad Overlook in Cassandra, PA about 2-3 miles south of Cresson. http://www.trainweb.org/horseshoecurve-nrhs/cass-james.htm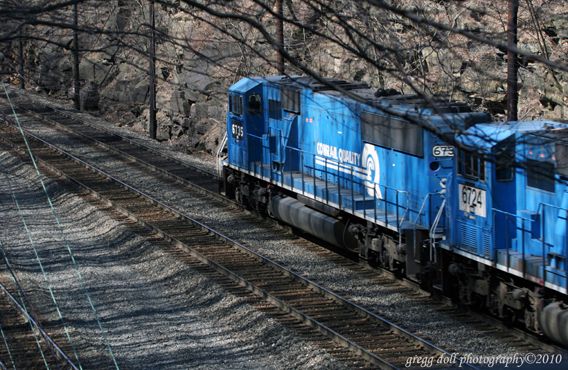 Still bearing their Conrail colors these two diesels lead a string of empty coal cars west bound on the longest straight away, which is 3 miles, as they pass under the Iron Bridge.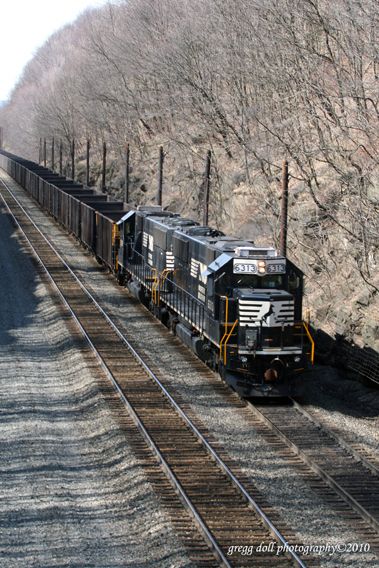 Bringing up the rear is a pair of Norfolk Southern helpers.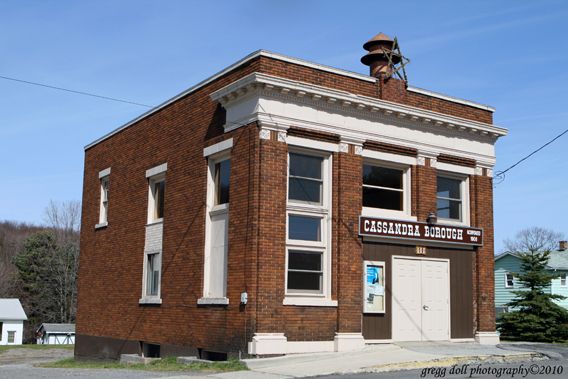 Once the borough's fire house, this building now serves as the borough office for Cassandra, PA.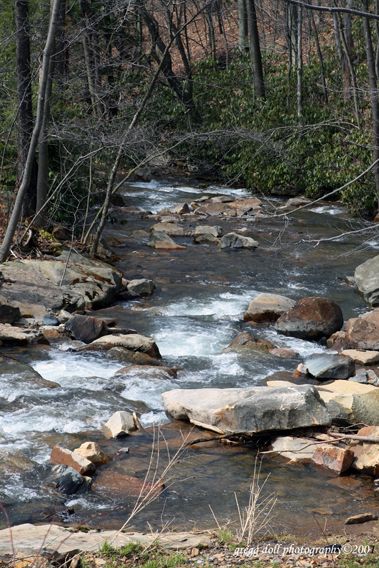 After the shopping was done, we started home by driving up the road to shoot this picture of Bens Creek.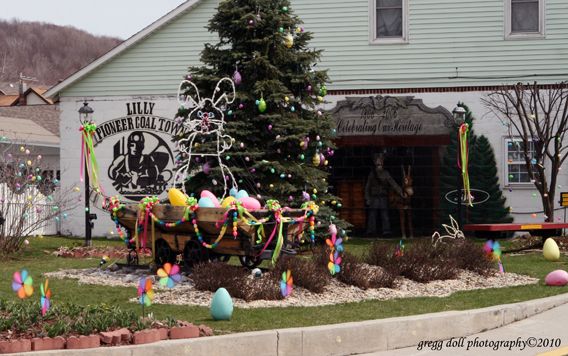 If you're a biker and like to ride and see what's to see along a road that's made to enjoy, Route 53 from South Fork, PA north is the just ticket. And one of the nicest looking towns to stop and look around in is Lilly, PA. These people will decorate the center of town in a heartbeat no matter the holiday. Not too bad for a 1/2 square mile town with a population of about 1,000.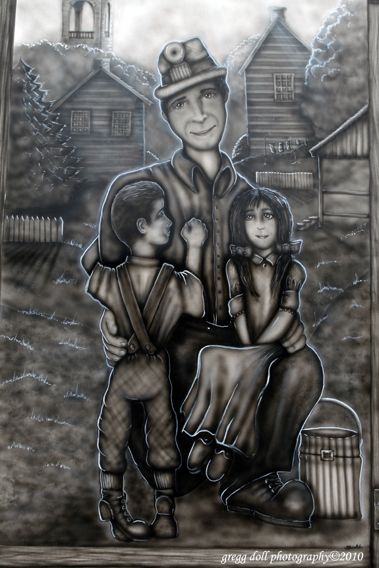 Lilly's history and coal mining are almost inseparable as can be seen in the many murals and statues in and around town. This one was Painted by Steve Barlick.
Lilly-Washington Historical Society -- http://www.l-whs.com/
These next three bronze plaques were produced by the combined efforts of Scott Steberger, Michael Allison and Steve Barlick.

Nobility of Woman
Lilly-Washington Historical Society Marker
2005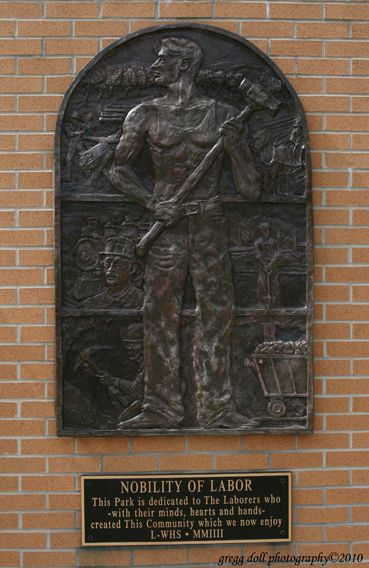 Nobility of Labor
Lilly-Washington Historical Society Marker
2004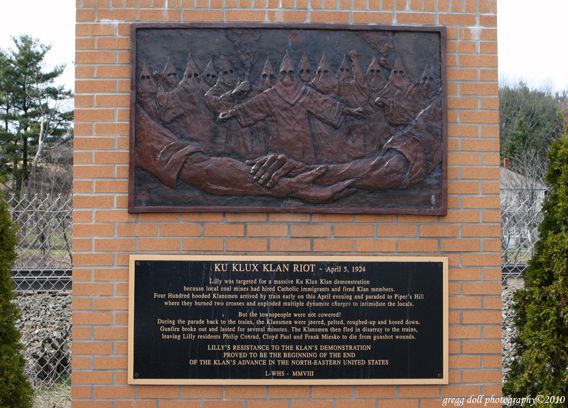 Ku Klux Klan Riot - April 5, 1924
Lilly-Washington Historical Society Marker
2008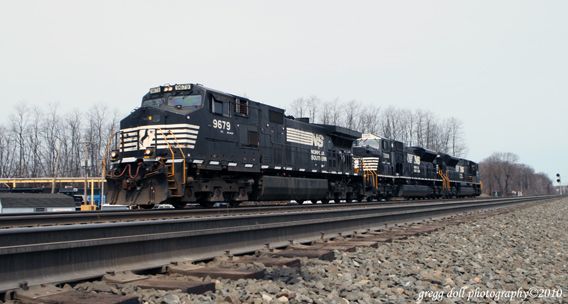 Back in Cresson, I stopped long enough to shoot these three west bound helpers.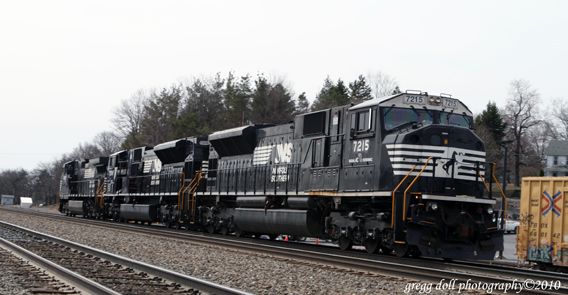 Although they are used quite often on this stretch of the Mainline, this is the first time I've gotten a shot of a EMD Radial AC SD80MAC. http://sd80mac.com/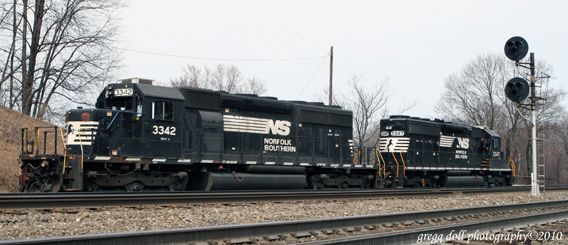 No sooner had the three helpers passed through Cresson that these two units backed out of the maintenance yard and onto a side track before going back on the road.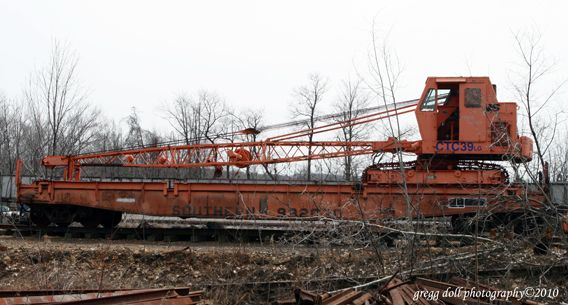 A quick search on the web didn't turn up any info on this old Southern Railroad maintenance-of-way equipment. It's now sitting at the end of a railroad junk yard in Sankertown, PA.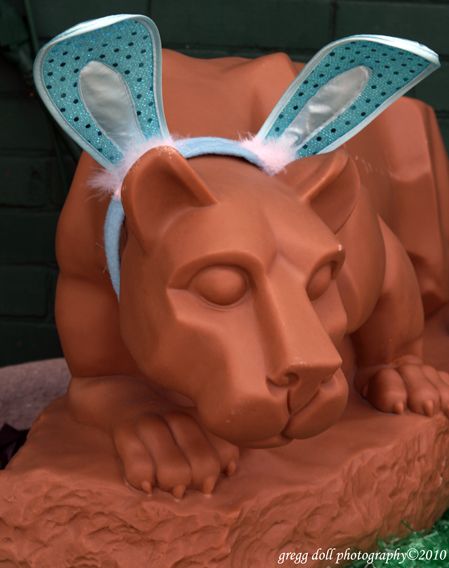 We'll end this week's blog with one more shot from beautiful downtown Lilly, PA.
Happy Easter!