The two venues for this week's blog issue couldn't be further apart if I planned it.
The first set of photographs are from the Garman Feed Mill in Garmantown and the second set covers our visit to The Southern Allegheny Museum of the Arts in Ligonier for the artist's reception for the 15th Annual Regional Juried Art Exhibition.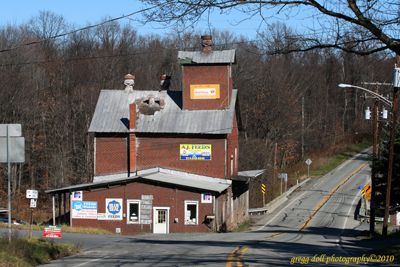 You can drive on Route 219 for 50 miles in either direction and not see another feed mill. We stop at Tractor Supply for bird feed and suet when we're in the big city but when I can, I go to the feed mill to get what I need. There's nothing like the smell of fresh ground corn, oats and the like. And the old wooden floor creeks as you walk across it.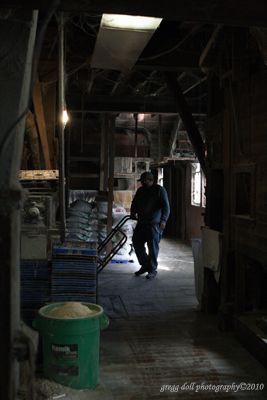 Natural light fills the building so there is no need to shoot inside with a flash.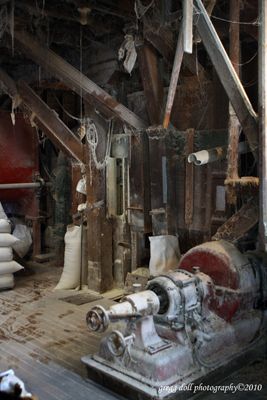 The electric grinder sits covered in dust.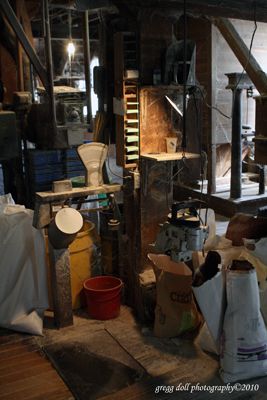 As each bag of feed are filled it is weighed, tagged and sewn shut.

Bags of feed waiting to be picked up.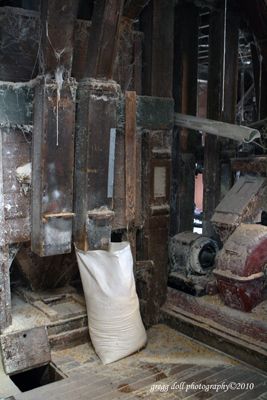 Filled bags of corn.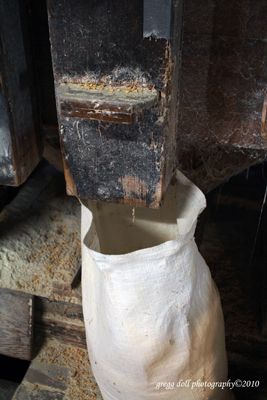 The shelled corn is fed into the bags while the cob is moved by conveyor belt to the pile outside.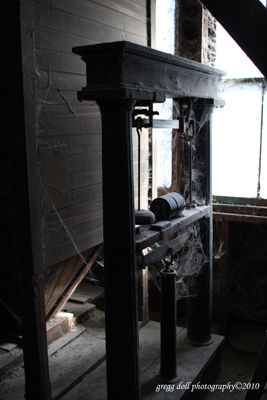 Over 160 years old and this scale still works.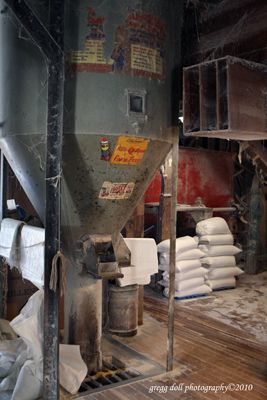 Relatively new is this 60 year old bag filler.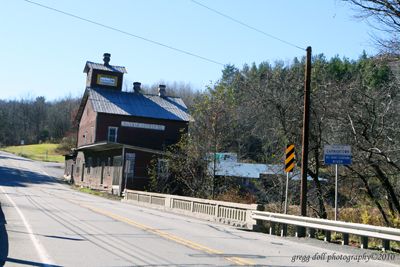 It takes longer to say Garmantown that it does to drive through it.

It's not often that I'm out after dark or even in the position where I can shoot some of the sunsets that we get to see in some of the open spaces around us. I captured the next three shots as we drove down to Ligonier on Saturday evening. They were taken over a four mile stretch of highway, from three different positions with a time span of about 8 minutes.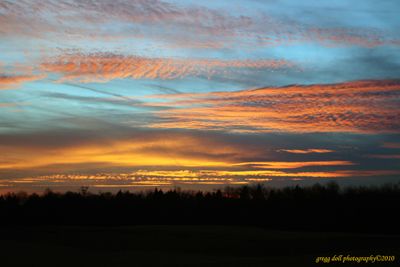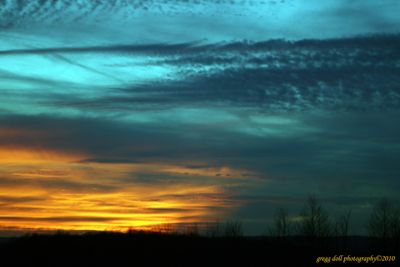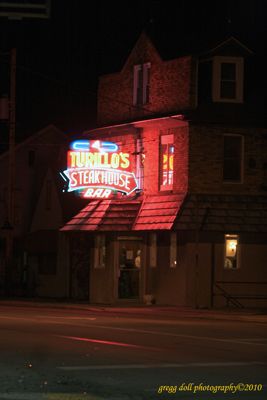 While stopped at a traffic light in Jennerstown, PA I pulled out the camera and shot this photograph of Turillo's Steakhouse and Bar. It's one of the fine restaurants along this section of Route 30, the Lincoln Highway.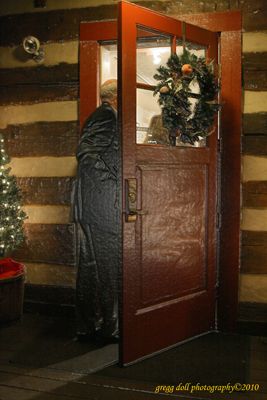 Welcome to the 15th Annual Regional Juried Art Exhibition at SAMA, Ligonier, PA.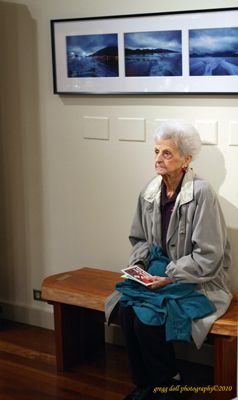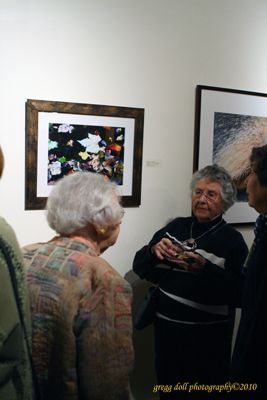 I was hoping to get a shot of just my entry in the exhibit hall. But these ladies spent a few minutes discussing my print as they made their rounds of the 75 art pieces, so I took this shot instead. It's a lot better than what I was going to shoot. My entry is titled Leaves on a Pond and was shot at the Indian Steps Museum in York County.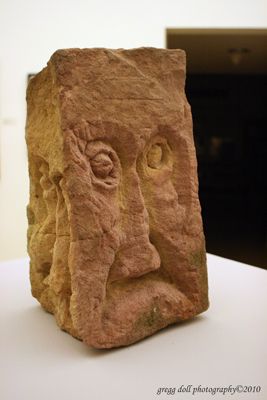 Obelisk by Richard Hower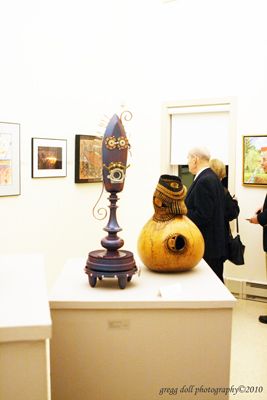 Bishop by Ronald Nigro (on the left) and Coming Out of Her Shell by Ceres M. Rangos.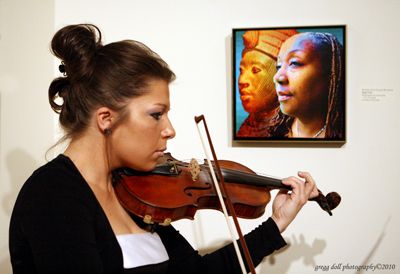 Unfortunately, I don't know the violinist's name but the mixed media art piece titled Regal Duo is by Elizabeth Asche-Douglas.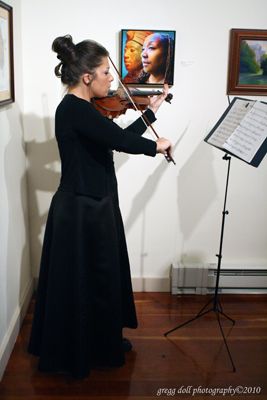 There was just something that drew me to photograph these three women together.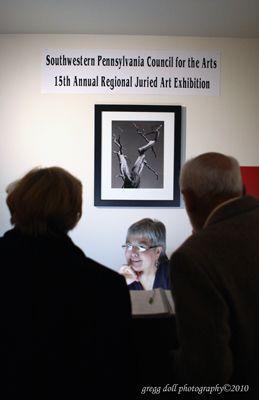 Guests signing in during the event. The photograph in the background is Desert Tree by Skip Allen.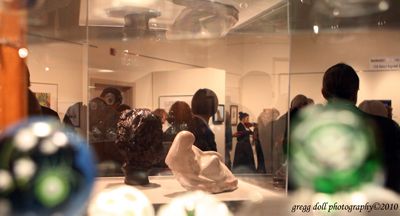 Looking at the main salon through a glass display case of paper weights before leaving at the end of the evening.