Back in the 50's when I was a kid in York, Pennsylvania, I remember all of our Christmas pictures being in black and white. Well, gang, what goes around, comes around. I'm submitting this week's photographs in brilliant black and white. The following 18 pictures were shot on Friday night, November 28, 2008 in Patton, PA. You would be surprised at the turn out for this small town parade. The kids were lined up for a half block to talk with Santa, and although I don't have any pictures to prove it you'll just have to take my word for it that the Patton Fire Hall was filled with children.

This is the only picture that has any color in it this week. Let's face it. Christmas lights don't look right in black and white.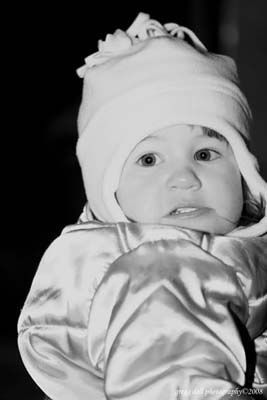 Waiting for the parade to begin.

"Look, Mommy! Reindeer!"

The Patton Fire Department leads off Patton's annual Christmas parade.

Cambria Heights High School Marching Band flag bearer.

Cambria Heights High School Marching Band.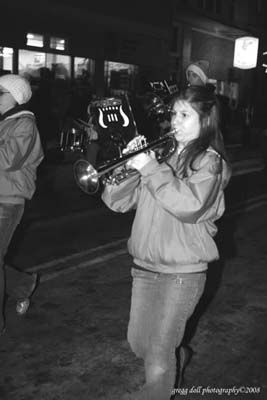 Boy Scout Troop 95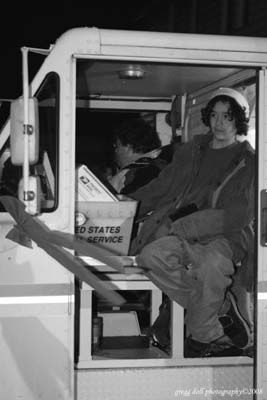 Riders on the local U.S. Post Office vehicle threw candy to the children along the parade route.

One of several tractors brought to town for the parade by local farmers.

So not all tractors belong to farmers.

Too cold to be cool in his go cart.



The man of the hour, Mr. C.

Getting a little knee time with Santa.

"Really, Santa, I WAS good!"

Twins. Which one was naughty and which one was nice?

If I don't look him in the eye, he'll believe whatever I tell him.