Happy New Year from The Doll Haus to your house. We sincerely hope that the next year will be better than the one we've just been through.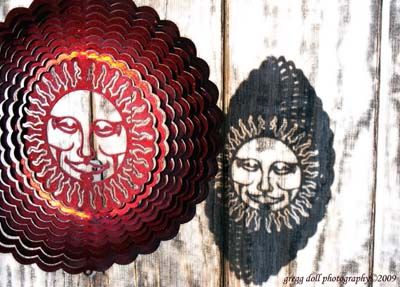 The sun shining through this laser cut mobile casts a reflection on the exterior wall of our house. The low angle of the sun at this time of the year provided the opportunity to get this shot.

A male Cardinal flying to the sunflower seed feeder.

Always around but seldom seen are the female Red-bellied Woodpeckers. This one showed up a few days after Christmas and spent about three hours hanging around the yard and the feeders and then it disappeared.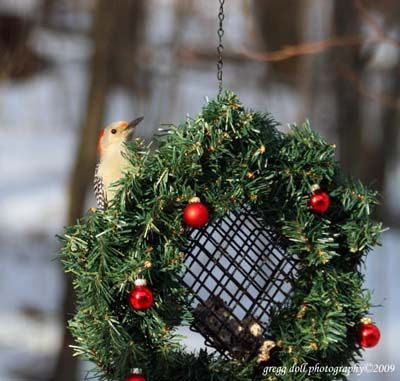 The female Red-bellied Woodpecker visited the Christmas wreath suet feeder before it was taken down for the season.

A Mourning Dove takes off from the top of the sunflower seed feeder. This should give you a pretty good idea of the response time needed from the time I know the bird is about to take off until I can get the shot.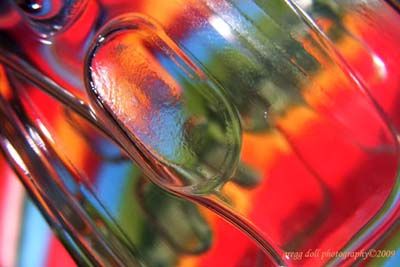 About nine months ago I ran a short series of photographs using a bottle of water, the macro lens on my point and shoot camera, and whatever background was handy. Here are two shots I took over the holiday that show this process again. This time the background is a multi-colored blanket with the sun shining through the window at the right angle for me to place the water bottle between the sunlight and the blanket.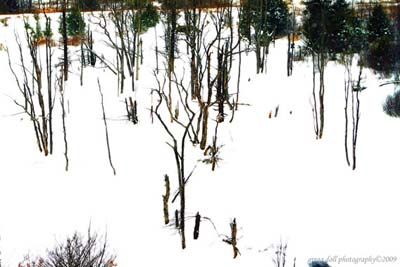 A frozen run-off pond along Route 219 and Route 422 is covered in a blanket of snow.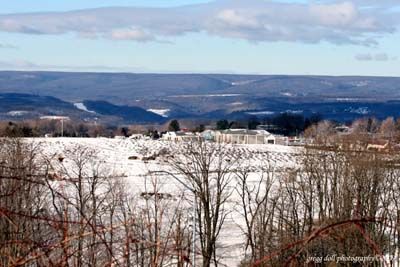 Looking west across Cambria County from Theatre Road in Richland Township, PA.

Nuthatch sitting in a tree.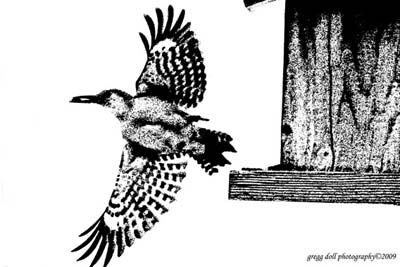 It took about twenty minutes of finessing in PhotoShop to get to this final print of a Red-bellied Woodpecker taking off from the seed feeder.