Since the last blog, we've completely upgraded our computer system. The new machine has a built-in card reader, lots of USB ports and the speed of a tricked out '46 Chevy hauling moonshine! When we upgraded to Windows 7, we needed to find a replacement for PhotoShop that we could afford, so we are now using Corel PaintShop Pro X3. I'm slowly learning Windows 7, a new photo editing program and a new version of my email program. Maybe you can teach an old dog (coming up on my 65th) new tricks.

St. Boniface Church is one of the oldest churches in the area. Although it's no longer used for regular services, it still serves an important role in the local community. The bright sun, blue sky and light snow cover really highlighted this scene which almost begged me to snap some shots.

Personally I prefer this view of the church because it makes it avoids Route 36 that runs along the front.

Markers in this cemetery go back well over 100 years.

The cross shown here is one of two in the area that were imported from Germany.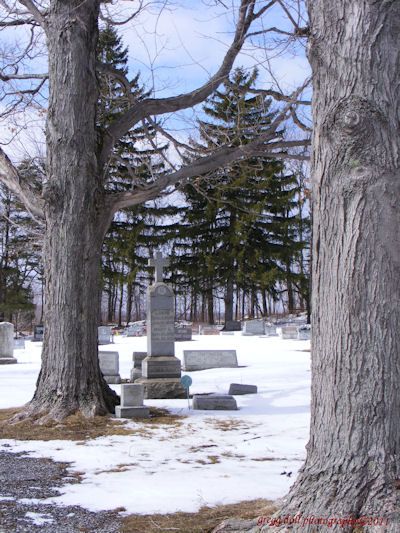 Our most recent purchase of eggs was a surprise since each egg is now stamped with a "Use by date". Got me to wondering if these were geneticallly altered chickens (or roosters) that now lay eggs with the "Use by" already on them. One never knows, do one?


We don't get to see the sunsets, but the sunrises almost make up for that.


Male Red-bellied Woodpecker

Female Red-bellied Woodpecker


Female Cardinal

Male Cardinal