At approximately 2:30 Tuesday afternoon the home of James Hartman of Patton, PA was engulfed by flames. According to reports, the fire started on the second floor. The home on McGee Avenue in the borough was a complete loss. Although the owner of the house got out without injury, two pets were thought to have perished in the blaze. After the fire was extinguished and firemen were able to enter the structure, they were amazed to find both dogs had survived the inferno. Quick response by the Patton Fire Department (Station 62), assisted by Hastings (Station 55) and Carrolltown (Station 51), contained damage to the Harman residence alone. As always, Patton EMS also responded to the alarm.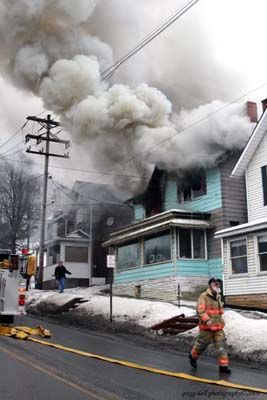 221 McGee Avenue, Patton, PA.

Flames shooting out of the second floor window, after first blowing out the window glass.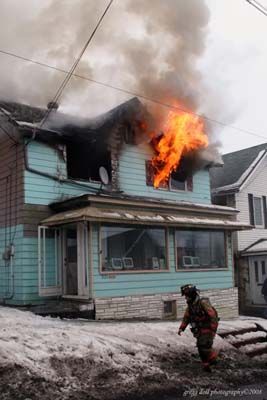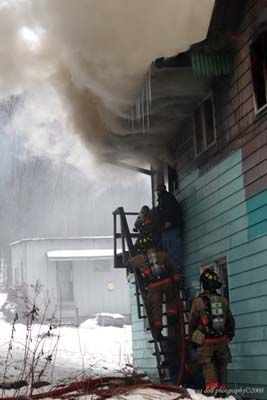 Firemen prepare to enter the building as smoke bellows from the second floor doorway.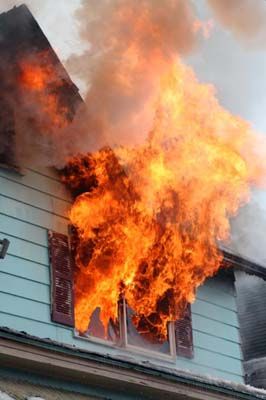 Fireman putting on his gear, prior to entering the building.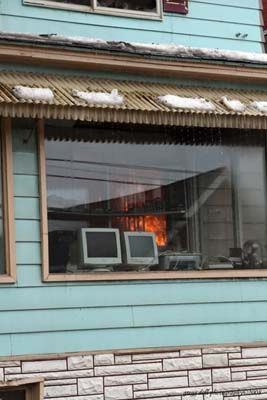 Fire can be seen through the porch window on the first floor.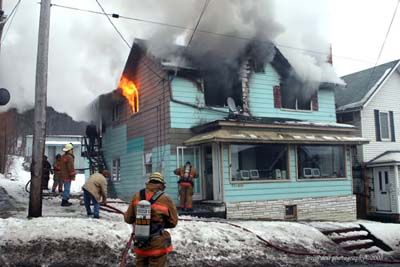 Even though the neighbor's house is in close proximity to the fire, there was no damage to the structure.

Volunteers from Station 55, prepare to enter the building carrying a heat detection unit.

Station 62 personnel changing air bottles.

Firemen unloading a ladder from a Patton pumper. The ladder was used to access the second floor bedroom window on the side of the building.

This is a Carrolltown Station 51 fireman warning people to stand to the side before they blasted water inside the structure that would reach bystanders outside.

Volunteer Fireman, Station 55.

My exiting shot.