A multiple alarm was sounded at approximately 4:30 Sunday morning for a fire at Philadelphia Avenue and St. Mary's Street in Northern Cambria in the building that housed the Northern Cambria Sewer Authority. Fire departments from Northern Cambria (Hope and Spangler Station 58), Hastings Station 55, Patton Station 62 and the Dauntless Fire Department from Ebensburg responded to the fire. Firemen were on the scene for approximately twelve hours taking care of hot spots and flare ups after the fire was knocked down. These are a small part of the 950 photos I shot over ten hours. The fire is still under investigation.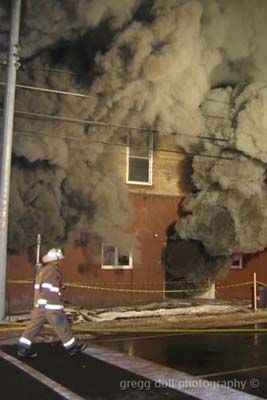 05:30:50 - Smoke billows from the West Branch Sewer Authority Building.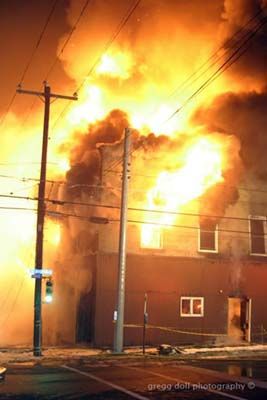 05:35:08 - The building erupts in flames.

05:36:11 - The side walls begin to cave-in.


05:37:34 - West Branch Sewer Authority Building looking across Philadelphia Avenue.

05:38:49 - Side wall, St. Mary's Street falls toward the street.

05:38:49 - The building begins to collapse on itself.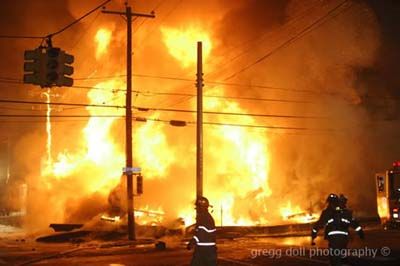 05:38:54 - The front of the building falls into the interior. The last three pictures show five seconds of the fire.



05:47:42 - Fire fighters attacked the fire from all angles.

06:00:48 - Hastings Fire Department sprays water onto the fire.


06:46:04 - Station 58 pumps water onto the fire.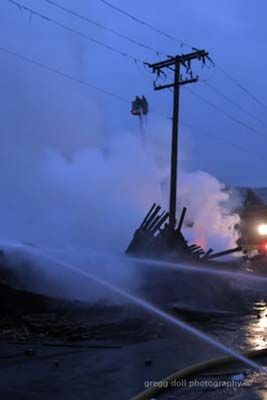 07:13:04 - Daybreak.

07:19:25 - Patton Fire Department pours water through the garage section where some 4000 tires were store.

07:30:26 - Station 58 uses infrared technology to find hot spots.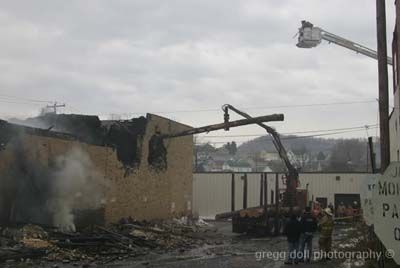 09:14:16 - D&D Lumber brought in a log hauling truck to use a tree as a battering ram. Dauntless watches from above, ready to attack any flare-ups.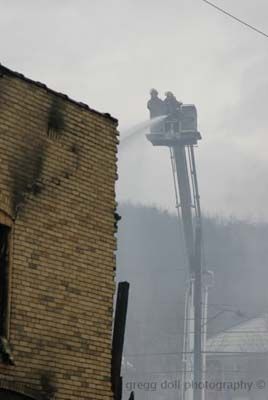 09:42:30 - Spangler's high snorkle platform douses water on the fire.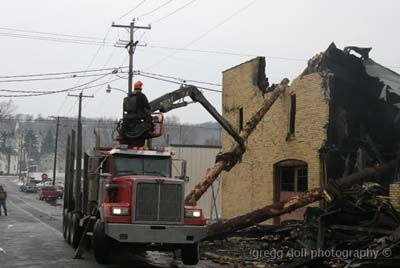 10:10:22 - Knocking down the wall in the tire storage area from the front.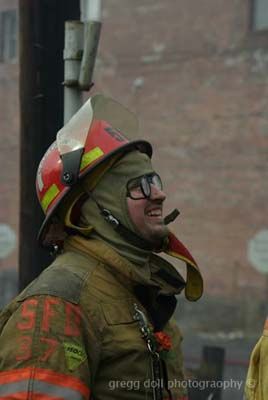 10:47:42 - After more than 5 hours standing in the confines of a Spangler snorkle platform, this firefighter is glad to be back on the ground again.


11:31:05 - Pouring foam on the burning tires.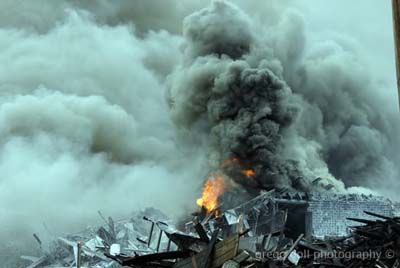 13:37:08 - Rancid black smoke rises into the air from the burning tires.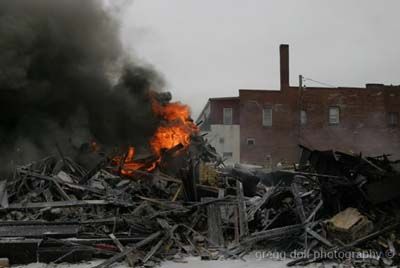 13:37:42 - Smouldering tires burst into flame.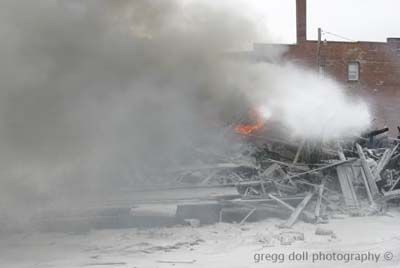 13:39:41 - Using foam to suppress flames from the burning tires.

13:57:53 - Up close and personal, attacking the hot spots.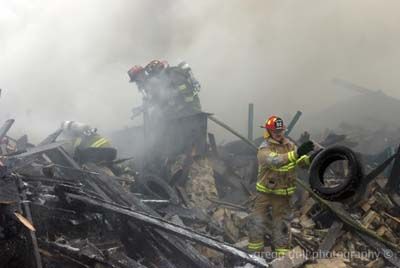 13:59:22 - Personnel from station 50 put out hot spots while other try to remove tires.


14:02:31 - Heavy equipment operator getting into his work, making a hole so foam can seep deeper into the smouldering debris.

14:16:12 - This 1979 American LaFrance pumper belonging to the Spangler Fire Department continues to serve the community.