Howdy, Campers......
Welcome to my tour of the 9th Annual Thunder in the Valley: Johnstown style. Things this year sure were a lot wetter than they had been for the last several years. I spent three out of four days at this year's rendezvous and managed to get wet more than once, even though I had rain gear. But then, on the other hand, I was only 35 miles from home so it really didn't make a difference.
All of the pictures were shot on Friday and Saturday. Thursday, was dedicated to demo rides. Even though the weather was nasty I did get to ride an 1100 Yamaha and the new Kawasaki 900cc Vulcan.
On Friday, my riding buddy, Tug, and I were lucky enough to get at least one demo ride in even though we had to do it in a down pour... Damn lucky we had rain suits. My ride Friday was the 2000cc Kawasaki Vulcan. Due to the weather conditions and the fact that we were not on dry, open roads, I was not able to use the Kawasaki to it's fullest potential. At 2000cc this bike needs open road, otherwise you never get out of third gear.
Now, if you enjoyed Thunder in the Valley, you're just gonna love the Johnstown Folkfest. It's held over Labor Day weekend, September 1 to 3rd this year, and it won't cost you a penny. To see some of the performers from last year's Folkfest visit our blog issue for September 2005. If you want to see who this year's performers are, go to http://www.johnstownfolkfest.org.

Felix and the Hurricanes, a local band, starts to warm up the crowd early on a wet Friday afternoon.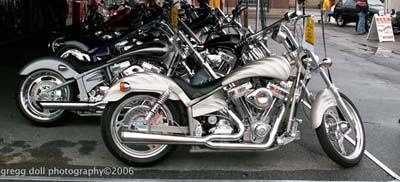 Custom bikes were on display everywhere. Unfortunately, most are way out of my league.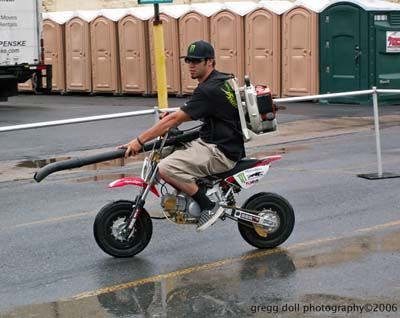 Unable to borrow one of NASCARS jet driers, the Ball of Steel boys do their best to dry out the wet asphalt with their version of a quick dry machine.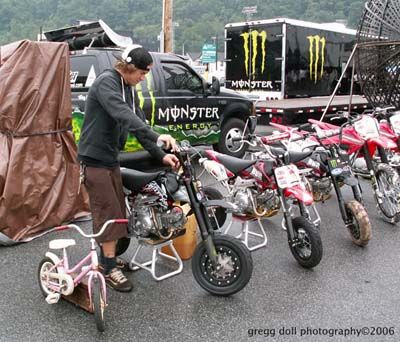 Despite the weather, the crew prepares the bikes for the first show of the day.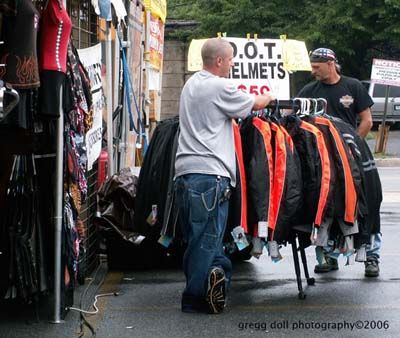 Take stuff out, put stuff back in, take stuff back out, this was the order of the day for the vendors on Friday.

The damp, nasty weather kept the crowd small in the early hours of the afternoon, but by 2 this area was rocking. In the background you can see the Johnstown Inclined Plane at 72 degrees of angle this is the world's steepest vehicular inclined plane.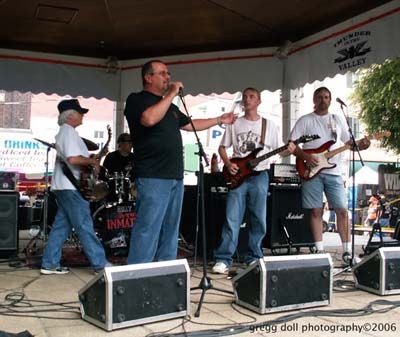 Another local band, Billy and the Inmates, get the crowd rocking in Central Park, in beautiful downtown Johnstown, PA.


On display in the Cambria County War Memorial, was the Snap-On chopper built by the boys of OCC. This was one of only two OCC bikes on display at this rather large, and prestigious biker gathering. Not much of a showing, most people were hoping for more. Oh, well.

My riding partner, Tug, checks out the Snap-On bike.


A Yamaha R1 gets its turn on the Dynojet machine.

You have no idea of what this bike sounds like when she's wide open.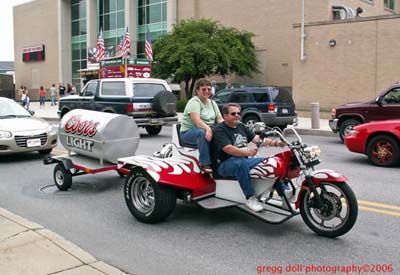 Now you may think that this woman's smile is due to the fact that I'm taking her picture. Unfortunately, this is not true. She's really watching the twelve guys trying to repair the electric starter on a Harley that's sitting along the road.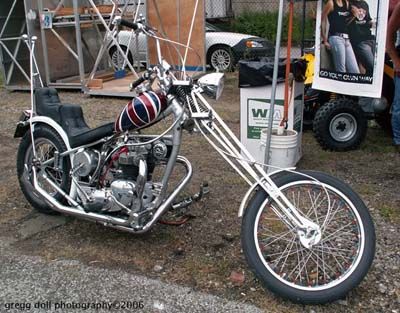 Now I know you've heard a lot of BS on tv about how to build "old school" choppers. Well, boys and girls, this is how it's done in real life. Now I wish I'd never sold my old Triumph hard tail, don't care if it was a rat bike.

Another nice looking, custom chopper.

U. S. Military Vets M/C. Just one of the many veterans motorcycle clubs in attendance at Thunder. Does my heart good to see fellow combat veterans enjoying life.

Bikers come in all ages, and sizes, and rides. This kid took first place in his age group during the biker kid contest held in Central Park.

Stars of the Ball of Steel show - Beau, Brandon, and Preston - taking a second to get their thoughts together before going out for the first performance of the day.

Inside the Ball of Steel. Better him than me.

Upside down in the Ball of Steel. Once again, better him than me.

Ball of Steel.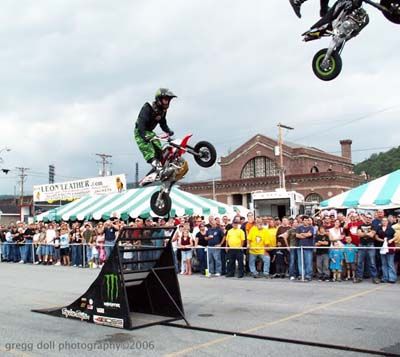 One and a half bikes out of three. Not a bad shot, considering.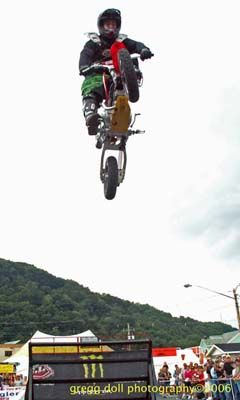 Took this picture crouched under the lip of the landing ramp. Life is good sometimes.

Look ma, no hands. Sorry, just had to say that.

After looking at this picture several times, I've wondered what the people walking on the midway behind this ramp must have thought when seeing this bike come flying through the air.

I'm trying to convince my business manager, the queen, my wife, that I really need a side hack like this so I can carry all my camera equipment when I go out to a meeting of the tribes.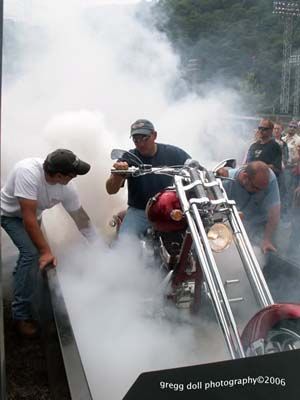 Last, but not least, this is one way to burn a hole in your tire, to say nothing of burning a hole in your wallet.