While my wife was at a
PALCI
meeting in Plymouth Meeting, I decided to take a whirlwind 4 hour tour of Philadelphia and shoot as many pictures of some of my old stomping grounds (1970's) as I could. From the first picture of the guy selling water at Passyunk Avenue to the last picture of the Philadelphia Art Museum, I shot over 400 pictures in about 4 hours and 15 minutes.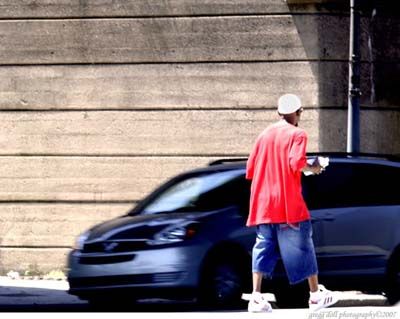 As I got off the Schuylkill Expressway onto Passyunk Avenue in South Philly this was the first picture I shot during my four hour cruise around town.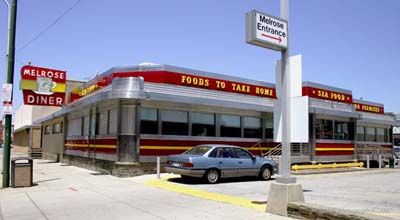 Out of all the eatiers in South Philly, this is the best known and the most often photographed. Back in the 70's I only lived a 1/2 block away from here.

Passyunk Avenue, South Philly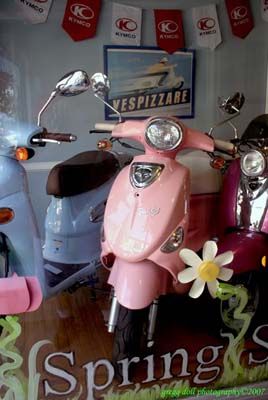 Philadelphia Scooter store on Passyunk Avenue.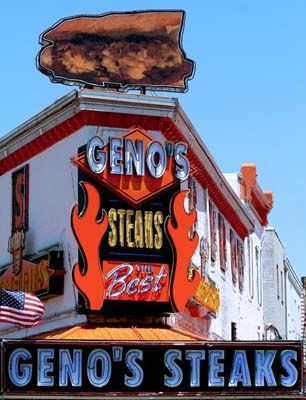 Geno's Steaks has been battling it out with Pat's for a number of years as to who is number one.

Abandoned fruit stand.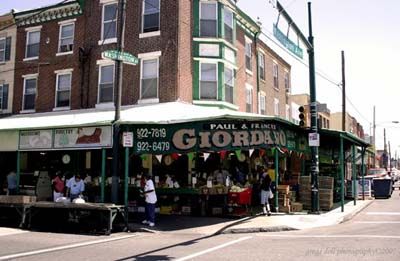 Giordano's Green Grocers on the corner of 9th and Washington. Paul has been a friend of mine for a quarter of a century and was my daughter Justine's godfather.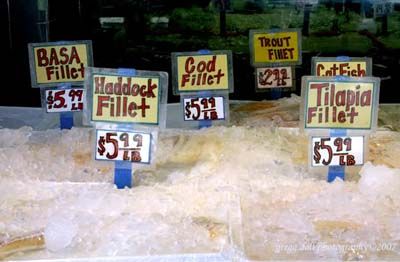 Fish Monger on 9th Street.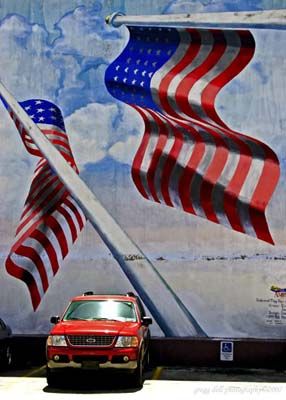 Flag Day 1999 designed by Stacy Lewis, painted by Eric Okdeh and Jason Slowik, on the corner of 8th and Kimball.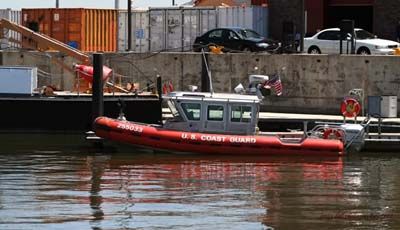 U.S. Coast Guard detachment, on the Delaware, Philadelphia water front.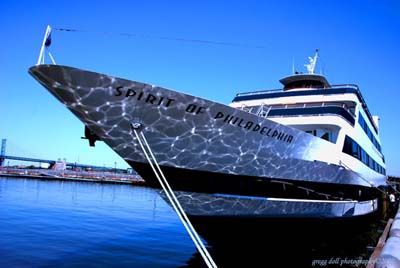 Spirt of Philadelphia, tour boat.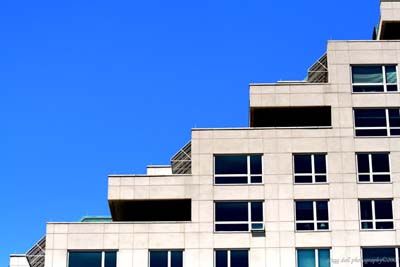 Concrete, steel and sky. Actually, this is a condominium called The Dockside, that's been built upon one of the long gone warehouse foundations that jut out into the Delaware River.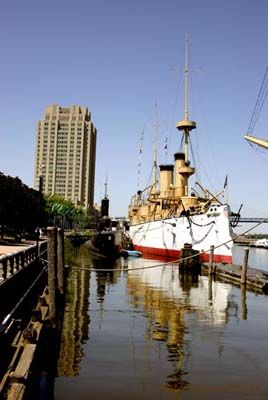 U. S. S. Olympia sits beside the U.S.S. Becuna, a guppy class submarine commissioned in 1944, at Penn's Landing.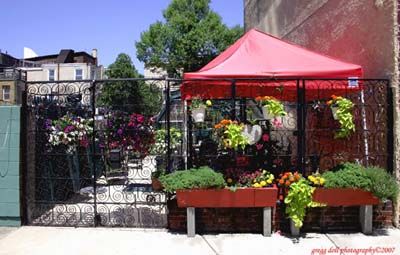 Intercity Garden.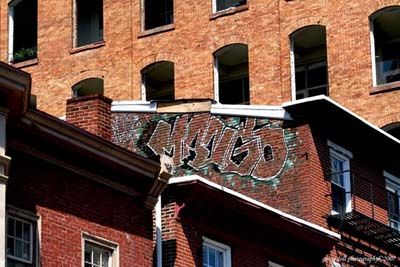 Graffiti high on a wall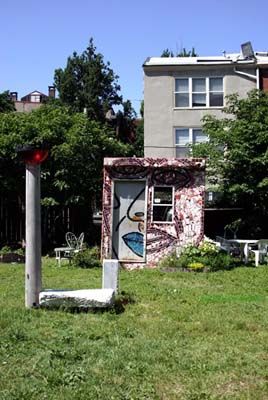 Garden House.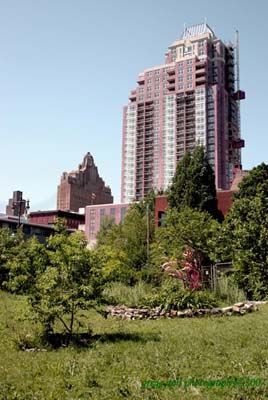 City scape.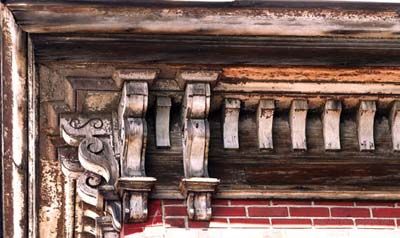 Woodwork.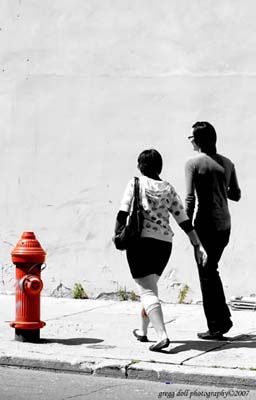 A Philadelphia couple walking by a red fire plug, in black and white.

Taxi cab sitting in front of a large mural called "Theatre of Life". It was painted in 2002 by Meg Saligman and Juan Dimida.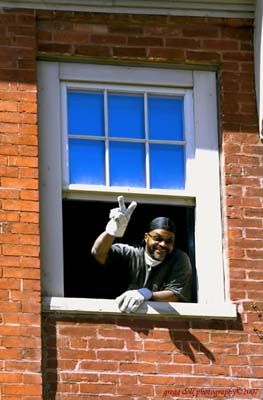 Friendly face, at Broad and Lombard. As I turned around from taking shots of the previous pictures, this guy was in the window waving at me and giving me the peace sign. Maybe that is why they call it "The City of Brotherly Love".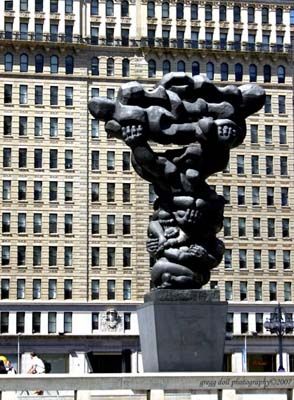 This 45 foot tall bronze statue is titled "Government of the People". It was erected in front of the Philadelphia Municipal Services Building three years after it's designer, Jacques Lipchitz, passed away in 1973.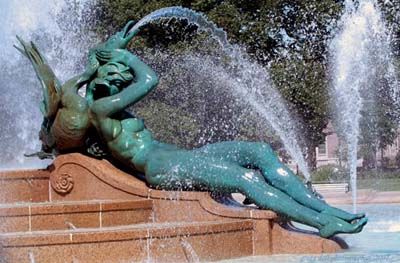 Swann Memorial Fountain (The Fountain of the Three Rivers), Bronze and granite, by Alexander Stirling Calder, 1924, is located at Logan Square, 19th and Benjamin Franklin Parkway.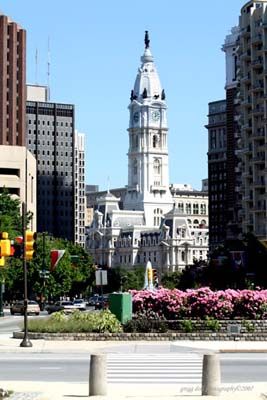 Looking back toward the city from Logan Circle.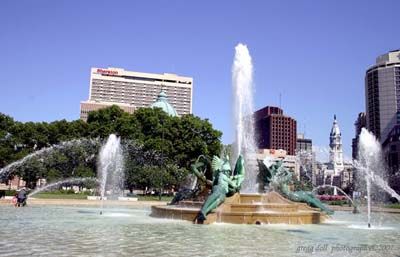 The Swann Memorial Fountain with the city in the background.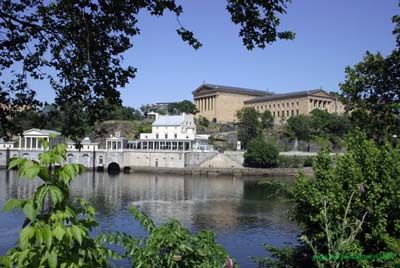 Philadelphia Art Museum, as seen from Kelly Drive.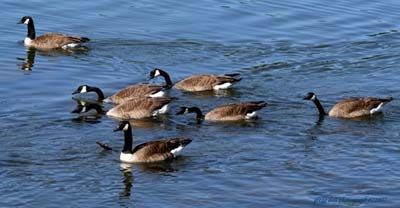 Canadian Geese on the Schuylkill River.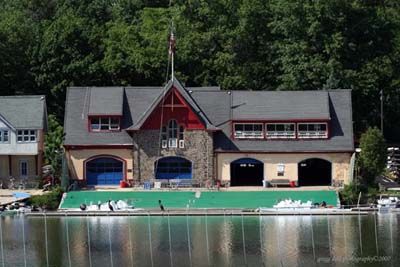 Part of boat house row along the Schuylkill River, these houses belong to various college and university rowing teams in the Philadelphia Area. The boat houses date from 1860.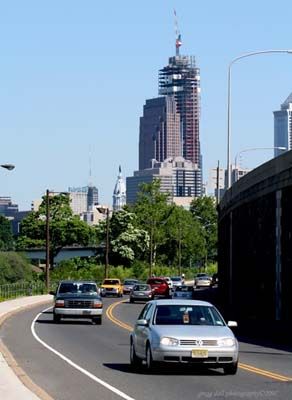 Looking back into Philadelphia from Kelly Drive on my way out of town, I've got one more parting shot to take.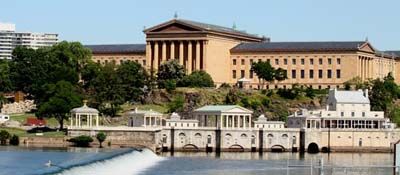 Philadelphia Art Museum as seen from the only legal pull off along Kelly Drive, from which this view is possible.