Can you tell from looking at this week's photographs that just last week we had snow on the ground? Well, here on the ridge we had a nice ground cover, anyway. The majority of this week's issue deals with the water and things you see along the road.
I held these first three photographs back a few days so I could use them in this week's issue. One of the first rights of spring for Pennsylvanians is the first day of trout season.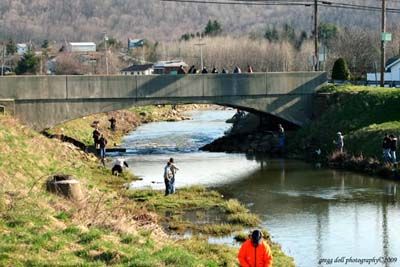 The Chest Creek flows through Patton on it's way to the Susquehanna River.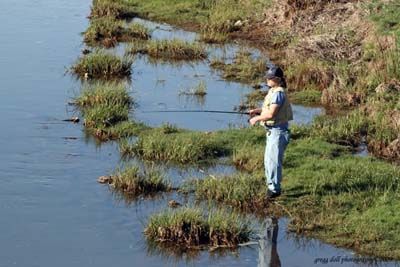 I may be wrong but I don't think there were many fishermen out this year.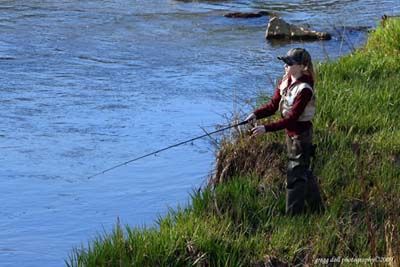 Finding her own space on the bank, this young lady works her bait in the current hoping to tease one of the trout into striking.

One of the things we always wanted to do is visit all of the state parks within an hour or two of our home. I'm hoping that this year we will be able to hit a bunch of them. I did a quick count from a list of the parks in the state and I found that there are approximately 19-20 in at least 8 neighboring counties.
So, after leaving Patton, which I shot as an assignment for the newspaper, we headed north to Black Moshannon State Park for a visit.
Driving north on Route 53 to get on Route 504 north to Black Moshannon State park, you drive through Philipsburg, PA. In this part of town you can see some of the restored homes and other historical sites located on Route 322.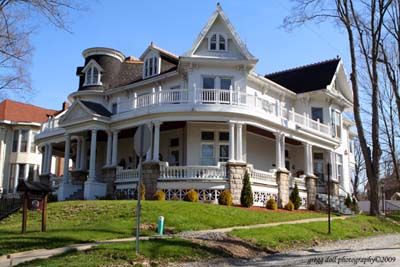 Whispering Sisters Bed & Breakfast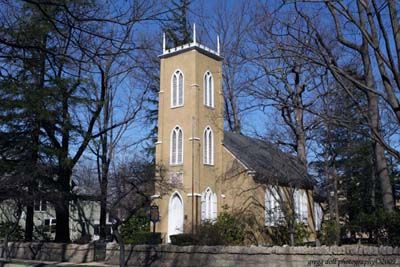 Union Church
http://www.philipsburgpa.org/history/historicalsites/unionchurch.shtml
When pioneers established Philipsburg in 1820 this church was built to serve as a place of worship for all faiths and as a school.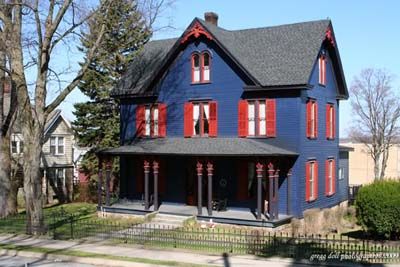 Philipsburg has a number of restored homes in this area of town including this nicely painted house along Route 504 heading north for the seven mile drive to Black Moshannon State Park.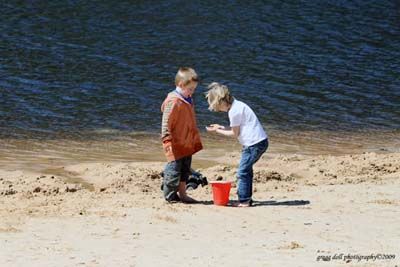 http://www.dcnr.state.pa.us/stateparks/parks/blackmoshannon.aspx
Boys play at the beach area at Black Moshannon State park. The park has a 250 acre lake, over 3,300 acres of woods and wetlands and is completely surrounded by the 43,000 acre Moshannon State Forest.

At the far end of the lake is a bog area and it's boardwalk trail that stretches for 0.3 mile, 0.5 full loop.

Boardwalk stretching out into the bog.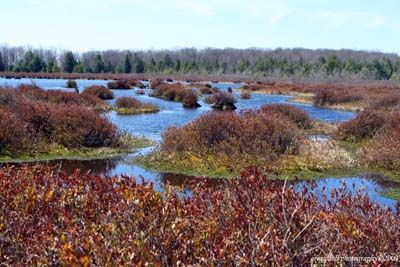 A view of the lush bog area.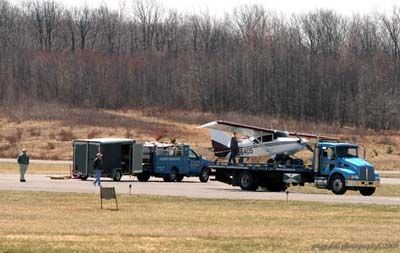 OOOPS!
After being involved in a ground loop, this 1980 Maule model M-5-180C was loaded onto a rollback and moved from the runway at the Mid-State Regional Airport to a hangar. Both the plane's prop and tail seemed to have been bent in the accident. If you are a regular visitor to the blog, you know that I like to stop at small, local airports to see what I might see. And once again, I think I got lucky when I happened upon this scene.

Located in Blair County,
Canoe Creek State Park
is a stone's throw from Altoona off of Route 22 East. The small 958 acre park is aimed more toward the day visitor than campers.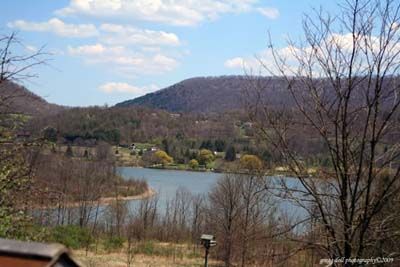 Looking across the lake from the park educational center.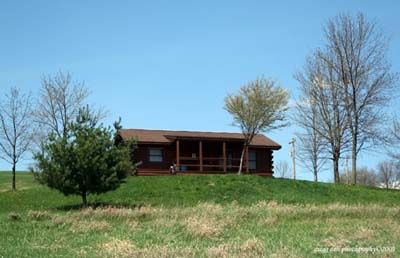 One of the eight cabins that overlook the lake.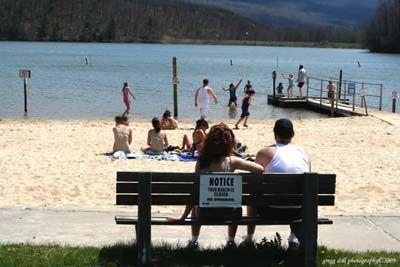 Beach Area
The sign on the back of the bench reads Notice: This beach is closed.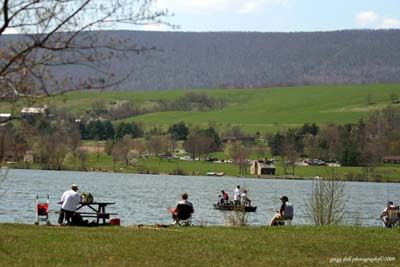 Looking across the lake, from the opposite shore, toward the ball field and beach area.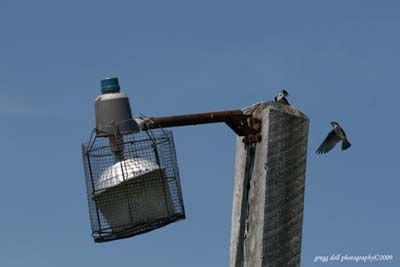 A pair of tree swallows builds a nest on top of a light pole near the boat launch area on the east side of Canoe Creek State Park.

Claar's Bait Shop, Canoe Creek. I've driven by this place on and off for most of my adult life and these are the first photographs that I've ever taken.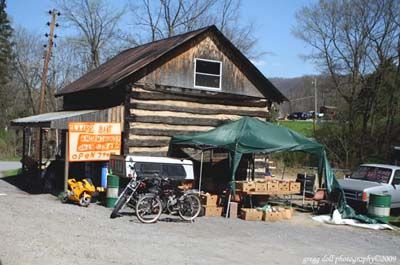 As far as I know, this is the only bait shop outside of the state park. There always seems to be somebody parked out front.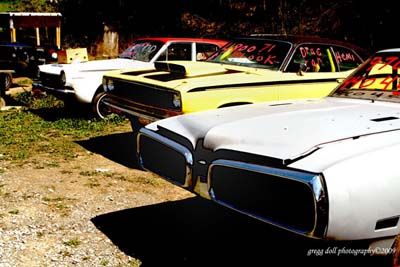 Baits not the only thing that Claar's has for sale. You might also want to check out her fine assortment of 1960s and 1970s muscle cars.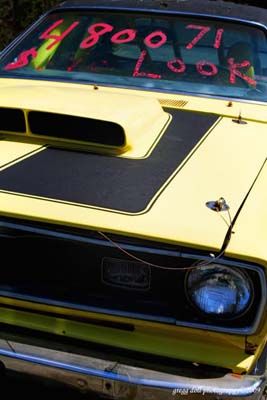 Just think, for $4,800 you can have this 1971 hemi.

My last three pictures for this week show a female robin building one of two nests that she has hidden in the rhododendron outside of our bedroom window.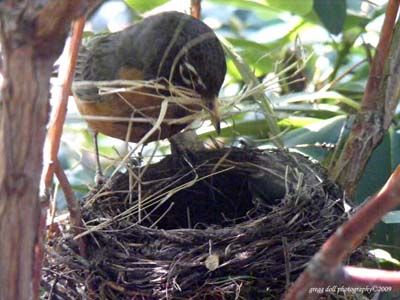 After three or four days of building the form for her "cup-type" nest, the robin starts to line the inside with dry grass.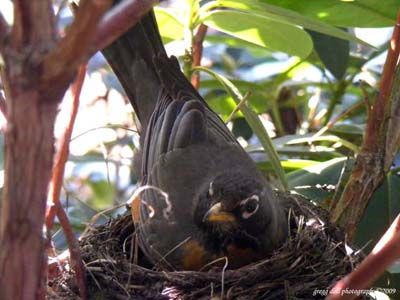 Once the robin has the grass laid out in the nest as she wants it, she uses her body to press the grass down into the nest as one of the last steps in the building of her nest.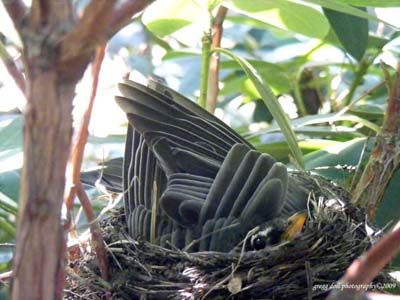 The robin puts her wings up and over her body, she then puffs up her chest and presses the dry grass into the wet mud that holds the nest together. She'll do this until the whole nest is dry inside with no mud showing. It's on this layer that she'll then lay her eggs.